ONE Gas Inc. OGS has been gaining from regulated earnings and increased demand from residential customers. New rates, dividend hikes and systematic capital expenditures will continue to drive its performance.



However, the natural gas price hike or a fall in the price of electricity or other energy products might hurt the stock's prospects.



ONE Gas currently carries a Zacks Rank #3 (Hold). The Zacks Consensus Estimate for ONE Gas' 2022 earnings per share of $4.07 indicates growth of 5.7% from 2021's reported figure. OGS' long-term (three to five years) earnings growth is currently pegged at 5%. You can see the complete list of today's Zacks #1 Rank (Strong Buy) stocks here .
Tailwinds
ONE Gas plans to invest $650 million in 2022 and aims to invest $3.5 billion in the 2022-2026 period for strengthening operations. Nearly 65% to 70% of the planned capital expenditure will be directed toward systems integrity and replacement projects.



The company aims at replacing 390 miles of vintage pipelines over the 2022-2026 period. It has identified 4,250 miles of pipelines to be replaced post-2027 and beyond.



ONE Gas has been gaining from a steady increase in the customer base every year since 2015. The company expects average annual customer growth of 1.2% in the 2022-2026 period across its service territories.



The majority of OGS' total customer base comprises residential customers. This provides stability to the company's earnings because the loss of any customer does not have a significant impact on its financials.



ONE Gas' stable performance will support management's plan of rewarding shareholders through an average annual dividend increase of 6-8% in the 2022-2026 period. OGS has been raising its annual dividend for the past few years.



The annual dividend of $2.48 per share for 2022 reflects an increase of 34.8% from the 2018 level and 6.9% from 2021. ONE Gas' current dividend yield of 3.1% is better than the industry's average yield of 2.8%.
Headwinds
ONE Gas operates in a highly competitive gas distribution industry and has to ensure high-quality services, which involve additional expenses.



Any upward movement in the price of natural gas or a fall in the price of electricity or other energy products will make natural gas less attractive to customers and reduce its demand. This might hurt the prospects of ONE Gas.



Even the implementation of strict regulations from federal, state and local governmental authorities can result in significant fines or penalties and affect OGS' operations or financial results.
Price Performance
In the past year, shares of ONE Gas have rallied 25.1% compared with the industry's 20.4% growth.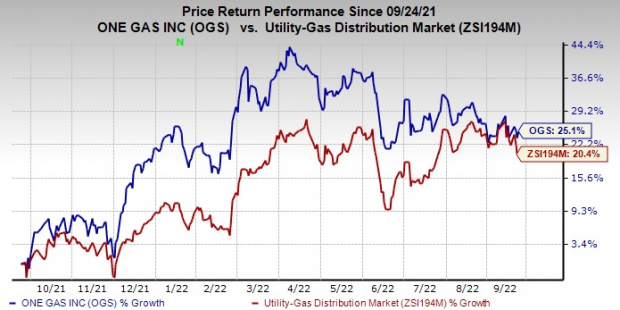 Image Source: Zacks Investment Research
Systematic Investments in Infrastructure
Utilities continue to make systematic investments in their infrastructure to provide better services for their customers. These investments are directed toward changing old pipelines, creating new storage facilities and focusing on renewable assets to generate clean energy.



Apart from ONE Gas, utilities like Atmos Energy Corporation ATO, National Fuel Gas Company NFG and South Jersey Industries Inc. SJI, each carrying a Zacks Rank #2 (Buy), among others, are making regular investments in their infrastructure.



Atmos Energy is planning to invest in the range of $13-$14 billion from fiscal 2022 through 2026, out of which more than 80% will be allocated to enhance the safety of existing operations. A major portion of its planned capital expenditure is utilized to improve the safety and reliability of distribution and transportation systems.



National Fuel Gas' systematic investment will help strengthen its natural gas and oil operations and reduce greenhouse gas emissions. NFG plans to invest the $725-$870 million band in fiscal 2022. Since 2010, National Fuel Gas Company has invested $2.2 billion in midstream operations to expand and modernize its pipeline infrastructure for gaining access to Appalachian production.



South Jersey Industries makes consistent investments to upgrade and maintain the existing infrastructure and expand operations. South Jersey Industries estimates capital expenditure plans for 2022, 2023 and 2024 to be $849.4 million, $793.4 million and $911.7 million, respectively.



ATO, NFG and SJI delivered average earnings surprises of 1.5%, 9.1% and 2.2%, respectively, in the last four quarters.
Zacks Names "Single Best Pick to Double"
From thousands of stocks, 5 Zacks experts each have chosen their favorite to skyrocket +100% or more in months to come. From those 5, Director of Research Sheraz Mian hand-picks one to have the most explosive upside of all.
It's a little-known chemical company that's up 65% over last year, yet still dirt cheap. With unrelenting demand, soaring 2022 earnings estimates, and $1.5 billion for repurchasing shares, retail investors could jump in at any time.
This company could rival or surpass other recent Zacks' Stocks Set to Double like Boston Beer Company which shot up +143.0% in little more than 9 months and NVIDIA which boomed +175.9% in one year.
Free: See Our Top Stock And 4 Runners Up



Want the latest recommendations from Zacks Investment Research? Today, you can download 7 Best Stocks for the Next 30 Days. Click to get this free report



South Jersey Industries, Inc. (SJI): Free Stock Analysis Report



Atmos Energy Corporation (ATO): Free Stock Analysis Report



National Fuel Gas Company (NFG): Free Stock Analysis Report



ONE Gas, Inc. (OGS): Free Stock Analysis Report
To read this article on Zacks.com click here.