AVANGRID Inc.'s AGR subsidiary, United Illuminating Company (UI), recently agreed to collaborate with Bidgely to implement the first electric vehicle (EV) managed charging program in Connecticut. The program is established by the Connecticut Public Utilities Regulatory Authority (PURA), with the strategy to shift customers' EV loads to off-peak periods when demand for electricity is at its lowest.



This partnership comes as part of a larger collaboration among UI, PURA and other stakeholders aimed at developing the statewide EV charging infrastructure, which is likely to support the state's goal of having 125,000 to 150,000 EVs on road by 2025. The program is designed to benefit the state's environment by reducing auto emissions.
Benefits of the Partnership
The new partnership with Bidgely is one of the many ways UI and AVANGRID are accelerating the adoption of EVs. Through this partnership, Bidgely is bringing its cutting-edge technology to the EV charging program in Connecticut, which will help UI remotely manage vehicle charging for optimal grid flexibility. This initiative will help minimize customer costs and ensure a balanced energy supply during peak periods.



The significant EV growth through this partnership will help AVANGRID lower emissions than gasoline-powered vehicles, which will further reduce the greenhouse gas release from vehicle movements into the environment. Due to the developing EV charging infrastructure, people will shift toward EVs, which are a clean and efficient alternative to gasoline-powered vehicles.



AVANGRID plans to create a clean generation portfolio with the 90% renewable and Scope 1 carbon neutrality goal by 2035. Also, it aims to reduce Scope 1 greenhouse gas emissions by 35% within 2025 from the 2015 baseline. This latest partnership with Bidgely will help AGR duly achieve these clean energy targets.
Utilities Supporting EV Transition
Electric utilities adopting measures to develop EV infrastructure along with supplying clean and reliable energy to their customers include Duke Energy DUK, Xcel Energy XEL and Alliant Energy LNT.



Duke Energy has been focusing on the growing electric vehicle market by already installing more than 627 charging stations. Duke Energy pledges to reduce emissions from its fleet by electrifying all light-duty vehicles by 2030 and 50% of medium-duty, heavy-duty and off-road vehicles with electric, hybrid electric or carbon-free alternatives.



DUK's long-term (three to five years) earnings growth is currently pegged at 6.1%. The Zacks Consensus Estimate for Duke Energy's 2022 earnings implies year-over-year growth of 4.4%.



Xcel Energy launched an EV smart charging pilot in Colorado for the customers of five major automakers to make it easier for consumers to switch to EVs and charge them at times when renewable energy production is high and demand on the energy grid is low.



Xcel Energy's long-term earnings growth is currently pegged at 6.4%. The Zacks Consensus Estimate for XEL's 2022 earnings implies year-over-year growth of 6.8%.



Alliant Energy installed a new fast-charging station at the busy interchange of Beaver Dam highway 151 corridor, which can charge four cars at a time. Alliant Energy announced retiring all the existing coal-fired generation units by 2040 to lower emissions from the 2005 levels by 50% and 100% within 2030 and 2050, respectively.



LNT's long-term earnings growth is currently pegged at 5.7%. The Zacks Consensus Estimate for Alliant Energy's 2022 earnings implies year-over-year growth of 4.6%.
Zacks Rank & Price Performance
Currently, AVANGRID carries a Zacks Rank #3 (Hold). In the past three months, shares of AGR have declined 0.1% against the industry's rise of 5.9%. You can see the complete list of today's Zacks #1 Rank (Strong Buy) stocks here .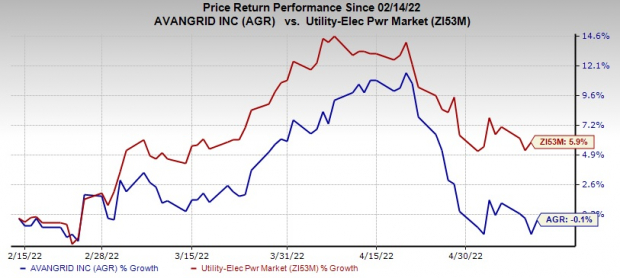 Image Source: Zacks Investment Research
Zacks Names "Single Best Pick to Double"
From thousands of stocks, 5 Zacks experts each have chosen their favorite to skyrocket +100% or more in months to come. From those 5, Director of Research Sheraz Mian hand-picks one to have the most explosive upside of all.
It's a little-known chemical company that's up 65% over last year, yet still dirt cheap. With unrelenting demand, soaring 2022 earnings estimates, and $1.5 billion for repurchasing shares, retail investors could jump in at any time.
This company could rival or surpass other recent Zacks' Stocks Set to Double like Boston Beer Company which shot up +143.0% in little more than 9 months and NVIDIA which boomed +175.9% in one year.
Free: See Our Top Stock and 4 Runners Up >>



Want the latest recommendations from Zacks Investment Research? Today, you can download 7 Best Stocks for the Next 30 Days. Click to get this free report



Xcel Energy Inc. (XEL): Free Stock Analysis Report



Duke Energy Corporation (DUK): Free Stock Analysis Report



Alliant Energy Corporation (LNT): Free Stock Analysis Report



Avangrid, Inc. (AGR): Free Stock Analysis Report
To read this article on Zacks.com click here.