First Solar, Inc. FSLR recently inked an agreement with National Grid Renewables to supply 2 gigawatts (GW) of its solar modules to the latter, thus further strengthening its strategic partnership with National Grid Renewables.
The modules, which constitute First Solar's advanced Cadmium Telluride (CadTel) thin-film module technology platform, are lined up for delivery in 2024 and 2025 throughout the United States.
It is worth mentioning that National Grid Renewables boasts a strong portfolio of solar, wind, and energy storage projects throughout the United States. Its long-standing alliance with FSLRthus exemplifies the capability of First Solar's products to consistently meet the demands of National Grid Renewables. It also entails an inflow of potential orders from National Grid to First Solar going forward, as the latter continues to invest in the sustainable future.
Significance of First Solar Modules
First Solar's responsibly produced advanced thin-film PV modules set industry benchmarks for quality, durability, reliability, design and environmental performance. These modules have a carbon footprint that is 2.5 times lower and a water footprint that is three times lower than the average crystalline silicon solar panel made with cells produced in China.
Considering such remarkable features that can ease the process of solar installation, the company may win multiple orders from various solar project developers. The latest agreement with National Grid is a testament to that fact.
Going ahead, the company strives to boost its manufacturing capacity. To this end, First Solar is investing heftily in the production ramp-up of this module. In 2021, First Solar announced plans to expand its manufacturing capacity by 6.6 GW by constructing its third manufacturing facility in the United States and first manufacturing facility in India.
Such capacity expansions should further bolster its long-term growth trajectory and enable the company to double its nameplate manufacturing capacity to 16 GW in 2024.
Growth Opportunities
The solar industry in the United States has been dealing with supply-chain vulnerabilities since the past few years, which has been slowing the pace of its development. In such a scenario, Biden recently declared theDefense Production Act to boost the domestic production of solar components.
This, in turn, may induce more investments in U.S. solar manufacturing companies, thus providing an edge to solar companies to expand their businesses in the solar world. Against this backdrop, such efforts by the government stand to benefit not only First Solar but also solar majors like:
SunPower SPWRdesigns, develops, manufactures, markets and sells high-performance solar electric power technology products, systems and services worldwide for residential, commercial and utility-scale power plant customers. The company expects its residential customer volume to grow by more than 35% in 2022 over 2021.
The Zacks Consensus Estimate for SunPower's 2022 earnings suggests a solid growth rate of 414.3% from the prior year's reported figure. SPWR has rallied 6.2% in the past month.
Canadian Solar CSIQ is a vertically integrated manufacturer of silicon ingots, wafers, cells, solar modules (panels) and custom-designed solar power applications. In June 2022, Canadian Solar's subsidiary, Recurrent Energy, acquired two standalone energy storage projects from Black Mountain Energy Storage in the South Load Zone of the Texas ERCOT market with a storage capacity up to 200 megawatt-hour (MWh) each of energy.
The Zacks Consensus Estimate for Canadian Solar's 2022 earnings suggests a growth rate of 41.2% from the prior-year reported figure. CSIQ has rallied 4.6% in the past six months.
Sunnova Energy International NOVA is a leading residential solar and energy storage service provider with customers across the United States and its territories. In June 2022, Sunnova, in alliance with Montgomery County Green Bank, pledged to assist low-to-moderate-income households in Montgomery County. The collaboration seeks to ease the adaptability of solar-based energy for Montgomery County's LMI community and enjoy its perks.
The Zacks Consensus Estimate for Sunnova's 2022 earnings indicates a growth rate of 5.6% from the prior-year reported figure. NOVA has appreciated 14.6% in the past month.
Price Movement
In a year, shares of First Solar have rallied 5.4% compared with the industry's growth of 9.6%.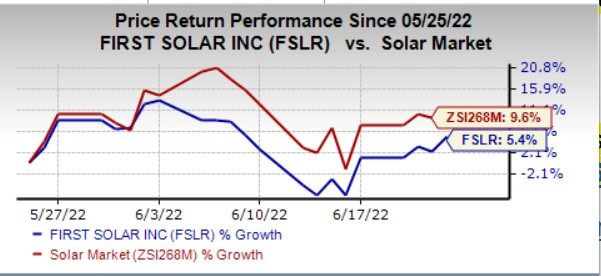 Image Source: Zacks Investment Research
Zacks Rank
First Solar currently carries a Zacks Rank #3 (Hold). You can see the complete list of today's Zacks #1 Rank (Strong Buy) stocks here .
7 Best Stocks for the Next 30 Days
Just released: Experts distill 7 elite stocks from the current list of 220 Zacks Rank #1 Strong Buys. They deem these tickers "Most Likely for Early Price Pops."
Since 1988, the full list has beaten the market more than 2X over with an average gain of +25.4% per year. So be sure to give these hand-picked 7 your immediate attention.
See them now >>



Want the latest recommendations from Zacks Investment Research? Today, you can download 7 Best Stocks for the Next 30 Days. Click to get this free report



First Solar, Inc. (FSLR): Free Stock Analysis Report



Canadian Solar Inc. (CSIQ): Free Stock Analysis Report



SunPower Corporation (SPWR): Free Stock Analysis Report



Sunnova Energy International Inc. (NOVA): Free Stock Analysis Report
To read this article on Zacks.com click here.