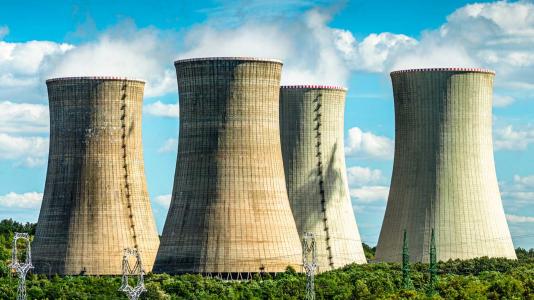 A new collaboration between the Argonne National Laboratory and Constellation Energy Corporation seeks to address climate change by analyzing and developing new carbon-free power generation technologies in the nuclear-hydrogen realm.
Through a six-year partnership, the pair will analyze the U.S. energy system trends and work on new technologies for its generation capabilities. Hydrogen derived from nuclear power will be examined as a means of storing and transmitting energy in backup power, transportation, and other applications, providing researchers can find a market demand for it and establish the environmental and economic impact of hydrogen production, storage, and delivery.
"Clean hydrogen produced from carbon-free nuclear has the power to transform difficult-to-decarbonize industries," Colleen Wright, vice president of corporate strategy for Constellation, said. "By combining Constellation's nation-leading carbon-free energy resources with electrolysis technologies and Argonne National Laboratory's technical expertise, we have an opportunity to deliver real-world solutions to combat the increasing threats of climate change."
The agreement established a legal foundation for future projects between the two and established the groundwork for any intellectual property agreements, speeding the process for anything to come. The pair will also be able to build off any previous projects' lessons and create a pipeline for developing and applying new technologies, allowing rapid progression through field studies, pilots, and adoption.
"This Agreement can help align our research and development at the laboratory because it gives us much better insight into what industry actually needs," Mark Petri, grid security and resilience lead at Argonne, said. "The industry benefits because they get the power of Argonne National Laboratory's capabilities and expertise to address specific technical issues that they may have."
The new arrangement – the Cooperative Research and Development Agreement – will bind Constellation and Argonne together through October 2028.
The post Argonne National Lab signs long-term agreement with Constellation to develop new, carbon-free power generation appeared first on Daily Energy Insider.
---
The views expressed in content distributed by Newstex and its re-distributors (collectively, "Newstex Authoritative Content") are solely those of the respective author(s) and not necessarily the views of Newstex et al. It is provided as general information only on an "AS IS" basis, without warranties and conferring no rights, which should not be relied upon as professional advice. Newstex et al. make no claims, promises or guarantees regarding its accuracy or completeness, nor as to the quality of the opinions and commentary contained therein.