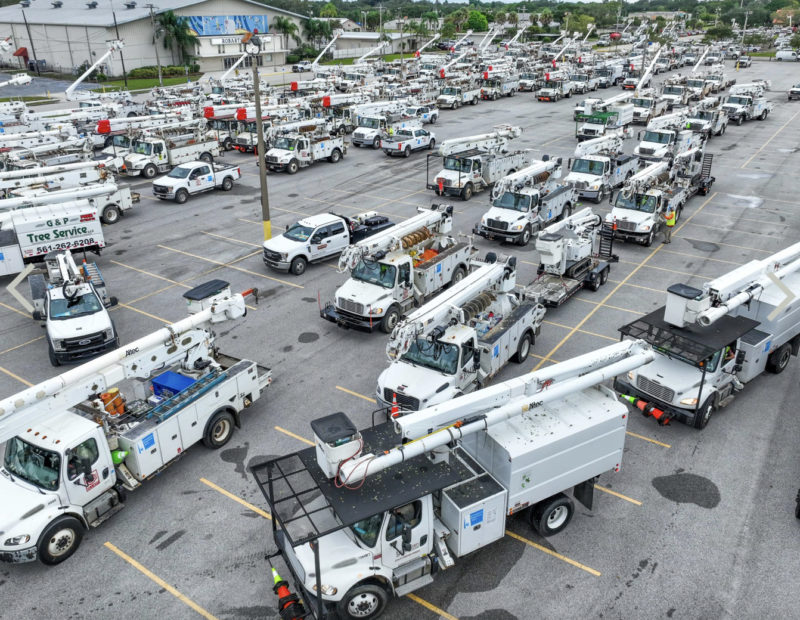 Power companies are responding to severe weather events on multiple fronts this week, with many utilities mobilizing ahead of Hurricane Ian, a Category 3 storm that's tearing through Cuba and heading for landfall on Florida's west coast, while others continue to restore electricity in the wake of destruction left by historic storm Fiona.
More than 30,000 workers from at least 13 states already are mobilizing to support the Hurricane Ian emergency response plans in Florida and the Southeast, according to the Edison Electric Institute (EEI).
At Florida Power and Light (FPL), for example, a power restoration workforce of more than 13,000 was tapped to get workers in position and to shift equipment to hasten safe and efficient responses to whatever power outages and damage the storm brings.
"As this storm approaches Florida, we know our customers are counting on us and we are determined to meet this challenge," said Eric Silagy, chairman and CEO of FPL. "We are mobilizing and pre-positioning our restoration workforce, so these brave men and women can quickly start working as soon as it is safe to do so. We have more than 13,000 personnel dedicated to the effort and we are making sure we're ready to respond, regardless of Ian's final path."
Tropical storm winds could hit Tuesday afternoon and potentially last through Friday evening, according to the National Hurricane Center. Accompanying the gusts could be battering rains, storm surges and flooding, all of which increase the likelihood of widespread outages – and those outages could last days, given the slow-moving nature of the storm. While FPL workers will engage in power restoration even during the lashing of the storm's outer bands, they will have to withdraw for safety reasons at some point – once winds hit 35 miles per hour or above – and then return for restoration and damage assessment after.
Aiding operations will be smart grid technology, which the company will use to remotely restore power to customers where possible.
Similarly, Duke Energy will mobilize nearly 10,000 lineworkers, tree professionals, damage assessment and support personnel to safe locations in its Florida service areas, to prepare for the response after the storm passes. Additional personnel will make their way from the company's Indiana, Kentucky and Ohio service areas throughout the day, and as needed.
Once restoration work has begun, the company noted that restoring electricity to public health and safety facilities will be emphasized, and also areas that will support the greatest number of customers.
At Tampa Electric, more dire responses have been considered, depending on conditions. The company earlier this week warned that it might proactively shut off power to the southern tip of downtown Tampa early Wednesday, ahead of the storm, to avoid more serious damage to its underground equipment from saltwater storm surge. While that could cause trouble for holdouts against the area's mandatory evacuation order, in the meantime, Tampa Electric noted that it would significantly shorten restoration time after the storm.
"The safety of our customers and our equipment is our top priority, and if you live in an evacuated zone, I urge you to take immediate action," Archie Collins, president and CEO of Tampa Electric, said. "Hurricane Ian is a large and unpredictable storm. While the path remains uncertain, we anticipate significant storm surge, and I encourage our customers to prepare for extended power outages."
Affected areas would include Harbor Island, two Channelside hotels, the Tampa transportation center and most of Davis Islands.
EEI, the association that represents U.S. investor-owned electric companies, said it is coordinating with its member companies and across the sector and with the Department of Energy through the CEO-led Electricity Subsector Coordinating Council (ESCC) to ensure impacted electric companies have the resources they need for a safe and efficient restoration.
Local companies like Tampa Electric and FPL will be helped by thousands of line workers from other utility companies traveling to Florida and participating in mutual aid – echoing responses seen in Canada and Puerto Rico after Fiona struck.
Southwestern Electric Power Co. (SWEPCO) announced plans to dispatch 306 personnel to the Orlando, Fla., area as part of mutual aid plans. Another 95 line restoration personnel trucked in from Oklahoma as part of assistance from the Oklahoma Gas and Electric Company (OG&E) – a member of the Midwest Mutual Assistance and Southeast Electrical Exchange – after a request from Tampa Electric. Typically, these crews are deployed for up to 14 days, and additional support can be sent as well.
"SWEPCO employees and contractors will be staged and ready to restore power for Florida residences and businesses once the storm passes," Drew Seidel, SWEPCO vice president of distribution region operations, said. "Just as other utility companies have answered our call in times of need, we'll be ready to assist those who are impacted by this storm."
Meanwhile, in Nova Scotia on Tuesday, about 1,300 workers from Nova Scotia Power remained in the field repairing damage from Fiona – one of the biggest storms in Canada's history. Some customers have been left without power for days, but as of Sept. 26, the utility reported that power had been restored to more than 270,000 customers throughout the province, down from a height of more than 400,000 on Sept. 24. Efforts there were bolstered by crews from New Brunswick, Quebec and Maine.
The situation was also challenging in Puerto Rico, where power restoration work has been underway since the Category 1 Hurricane Fiona slammed into the island on Sept. 18. Local transmission and distribution operator LUMA, working with the Puerto Rico Electric Power Authority (PREPA) and others, reported power had been restored to 69 percent of customers – more than 1 million residents – as of Tuesday. The storm had caused blackouts throughout the island, and more than 1,600 LUMA field crews – together with another 339 contractor resources – worked to restore and reenergize the local grid, working on transmission lines, substations, vegetation management and more.
"We want to be very clear that LUMA is ready right now to restore power to more customers as soon as additional generation becomes available," LUMA Engineer Daniel Hernández said on Monday. "Since the impact of the storm, we are continuing to coordinate our efforts to restore power and reenergize the electric system as quickly and safely as possible with PREPA and our generation partners. We remain focused on working as hard as possible to restore power to the overwhelming majority of customers by this Friday."
According to its most recent figures, the company predicts restoration for between 77-91 percent of customers by Friday.
The post Utilities industry braces for Hurricane Ian as power restoration work from Fiona carries on appeared first on Daily Energy Insider.
---
The views expressed in content distributed by Newstex and its re-distributors (collectively, "Newstex Authoritative Content") are solely those of the respective author(s) and not necessarily the views of Newstex et al. It is provided as general information only on an "AS IS" basis, without warranties and conferring no rights, which should not be relied upon as professional advice. Newstex et al. make no claims, promises or guarantees regarding its accuracy or completeness, nor as to the quality of the opinions and commentary contained therein.