Equinor ASA EQNR and SSE Renewables are considering a fourth-phase development of the Dogger Bank Wind Farm in the U.K. North Sea.
The next development phase, called Dogger Bank D, will be situated in the eastern zone of the Dogger Bank C lease area.
The 3.6-gigawatts (GW) Dogger Bank wind farm is an offshore wind farm, which is being developed in three phases, namely Dogger Bank A, Dogger Bank B and Dogger Bank C. It is a 50/50 joint venture partnership between the energy company SSE and Equinor.
The Dogger Bank D development will add another 1.32 GW capacity and double the existing Dogger Bank acreage. Once developed, Dogger Bank will be the world's largest offshore wind farm, with a capacity to power six million U.K. homes.
Equinor and SSE were considering either supplying power from the fourth phase to the grid. The second option would be to use electricity produced by Dogger Bank D to generate green hydrogen at a dedicated electrolysis facility in the Humber region.
The facility could become the U.K.'s largest green hydrogen project. Hydrogen can be produced by splitting water molecules through electrolysis. This method doesn't result in carbon dioxide emissions compared with hydrogen production from natural gas.
Both options from Dogger Bank D would contribute to the U.K.'s net-zero goals and emphasize Equinor's ability to supply energy to the U.K. The Dogger Bank Wind Farm is expected to become operational by 2026 and Equinor will be responsible for its operations.
Price Performance
Shares of Equinor have underperformed the industry in the past six months. The stock has declined 16.8% against the industry's 19.3% growth.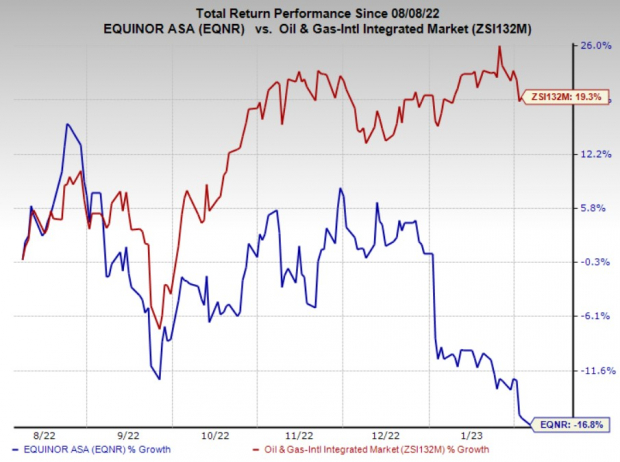 Image Source: Zacks Investment Research
Zacks Rank & Stocks to Consider
Equinor currently carries a Zack Rank #3 (Hold).
Investors interested in the energy sector might look at stocks like Murphy USA Inc.'s MUSA and RPC Inc. RES, each currently sporting a Zacks Rank #1 (Strong Buy), and Liberty Energy Inc. LBRT, carrying a Zacks Rank #2 (Buy). You can see the complete list of today's Zacks #1 Rank stocks here .
Murphy USA's fourth-quarter 2022 earnings per share of $5.21 missed the Zacks Consensus Estimate of $6.16. The underperformance could be attributed to lower-than-expected petroleum product sales.
MUSA remains committed to returning excess cash to its shareholders through continued share buyback programs. As part of this initiative, the fuel retailer has approved a repurchase authorization of up to $1 billion, which can be completed by Dec 31, 2026. The move underscores MUSA's sound financial position and commitment to rewarding its shareholders.
RPC reported adjusted earnings of 41 cents per share in the fourth quarter, beating the Zacks Consensus Estimate of 30 cents. The strong quarterly results were backed by higher activity levels in all the service lines and rising equipment utilization.
As of Dec 31, RPC had cash and cash equivalents of $126.4 million, up sequentially from $73.2 million. Nonetheless, the company managed to maintain a debt-free balance sheet.
Liberty Energy's fourth-quarter 2022 earnings per share of 82 cents handily beat the Zacks Consensus Estimate of 71 cents. The outperformance reflects the impact of strong execution and increased service pricing.
As part of its shareholder return policy, LBRT repurchased $125 million of its stock at an average price of $15.29 apiece since July and reinstated a quarterly cash dividend of 5 cents in the fourth quarter.
Free Report: Must-See Hydrogen Stocks
Hydrogen fuel cells are already used to provide efficient, ultra-clean energy to buses, ships and even hospitals. This technology is on the verge of a massive breakthrough, one that could make hydrogen a major source of America's power. It could even totally revolutionize the EV industry.
Zacks has released a special report revealing the 4 stocks experts believe will deliver the biggest gains.
Download Cashing In on Cleaner Energy today, absolutely free.
Want the latest recommendations from Zacks Investment Research? Today, you can download 7 Best Stocks for the Next 30 Days. Click to get this free report

Murphy USA Inc. (MUSA): Free Stock Analysis Report



RPC, Inc. (RES): Free Stock Analysis Report



Liberty Energy Inc. (LBRT): Free Stock Analysis Report



Equinor ASA (EQNR): Free Stock Analysis Report
To read this article on Zacks.com click here.