Ads
Hi, what are you looking for?

Renewables Become Leader in Grid Resilience: Decentralized Approach to Disaster Recovery

How Not To Short-Circuit the Clean Energy Transition (Video)

CORENA Has Money to Lend for Climate Action

NREL Creates Highest Efficiency 1-Sun Solar Cell

Toyota Residential Battery Supports Vehicle-To-Home Operation

Renewables Become Leader in Grid Resilience: Decentralized Approach to Disaster Recovery

How Not To Short-Circuit the Clean Energy Transition (Video)

Wooden Towers To Help Cut The Cost Of Wind Turbines, Even More

OpenOA Software Improvements Illuminate Wind Plant Performance

Egypt Has Opportunity To Gain Green Infrastructure While Hydrogen Hype Persists

What Are Geophones?

DOE Launches $84 Million Enhanced Geothermal Energy Systems (Video)

Renewable Generation Surpassed Nuclear in the U.S. Electric Power Sector in 2021

Betting A Billion Dollars On Low-Carbon Grid Transformation Tech

Mexico's Clean Energy Ambitions Realistic With These Renewable Energy Resources

Li-Cycle & Glencore Announce Partnership, Glencore Invests $200M In Li-Cycle

How China's Lithium Leverage Affects Tesla & Other EV Makers

Panasonic Now Mass Producing Tesla 4680 Batteries

Electrolyte Additive Offers Lithium Battery Performance Breakthrough

Turning High-Rise Buildings into Batteries

Texan Tesla Powerwall Owners Can Help Change ERCOT's Mind On VPPs

Gridspertise — Advanced Digital Solutions For A Smart, Resilient Grid

Betting A Billion Dollars On Low-Carbon Grid Transformation Tech

"Home of the Future" — Solar Power Home with Electric Ford F-150 Lightning Backup Power (Video)

Buzz Solutions Takes Out 50% Of Grid Inspection Image Effort & Duration

People Are Starting To Receive Starlink RV Terminals, & They're Efficient

Speed, Bow Shape, & Ultrasonics, Electrification & More Will Reduce Marine Shipping Fuel Requirements

Automating The Secret Life Of Buildings: Interview With PassiveLogic CEO, Part 2

Converting From Fuel Oil To Heat Pumps Would Save The US 47% Of The Oil We Used To Import From Russia

Hyundai Built A Really Cool Efficient Camper Van

Road to Zero Emissions Now Clear for Road Traffic

Here's What Elon Musk Actually Said Regarding 10% Job Cuts

Financial Analysis: Faster Electrification Would Boost Car Company Stocks & Profits

Interview With Solectrac CEO Mani Iyer

Elon Musk: IDRA Group's 9,000-Ton Giga Casting Machine Is For Tesla Cybertruck Unibody

How 3 Years With A Tesla Model 3 Almost Made Me Forget About The Mobility Revolution

Oupes 1800W Power Station — Solar Generator (CleanTechnica Review)

CleanTechnica Tested: FlexSolar 200 Watt Briefcase Solar Panel Kit

CleanTechnica Review: Fanttik X8 Air Compressor

CleanTechnica Review: Hiboy VE1 Pro Electric Scooter

Road to Zero Emissions Now Clear for Road Traffic

Top 20 Electric Cars In The World — April 2022 (Charts)

France EV Share Grows In May, Fiat 500 Leads

Norway Continues To Grow EV Share In May

Sweden's Plugin EV Share Keeps Growing, Up 22% YoY

How 3 Years With A Tesla Model 3 Almost Made Me Forget About The Mobility Revolution

Oupes 1800W Power Station — Solar Generator (CleanTechnica Review)

CleanTechnica Tested: FlexSolar 200 Watt Briefcase Solar Panel Kit

CleanTechnica Review: Fanttik X8 Air Compressor

CleanTechnica Review: Hiboy VE1 Pro Electric Scooter

Tesla Q4 Shareholder Conference Call — Watch & Listen Here

Volkswagen Group — In-Depth Conference Call Highlights Company's Focus On Transition

Bill McKibben On Unions, Tesla, & Elon Musk — CleanTechnica Interview

How To Watch & Listen To Tesla Q3 Earnings Call — Most Useful Livestream

Tesla Sales & Future of Tesla Discussion with Ride the Lightning, Starman, & EVANNEX

Hawai'i is looking to rooftop solar power to alleviate its reliance on fossil fuels to generate electricity.

By

Published

Utility companies and rooftop solar power have had a fraught relationship from the very beginning. Ever since the days of Thomas Edison, utilities have gotten their electricity from large generating stations and distributed it to customers through a system of sub-stations, poles, and wires. The electricity was supposed to flow in one direction only. There's another wrinkle to consider as well.

Early on, people realized that it was wasteful and inefficient to have multiple utilities in competition with each other, each with its own poles, wires, and substations. And while that is undoubtedly true, it came to represent a certain mindset among folks in the utility business, one which cast them as the masters of their world of electrons with no outside interference allowed.

It's little wonder, then, that when people started putting rooftop solar systems on their homes and started feeding electricity back into the grid any old time they felt like — and expected to be paid retail rates for it as well! — executives at all those utility companies had a flopping fit. They warned that rooftop solar would destabilize the grid, increase costs for those without solar systems, and threaten the American way of life.

Think that's an exaggeration? How else to explain the nefarious plot by the utility industry several years ago to pass an amendment to the Florida constitution that would have put a halt to the proliferation of rooftop solar in the Sunshine State. They tried again in the 2022 session of the state legislature, but even the Florida governor couldn't swallow that plan and vetoed the proposed legislation.

In the grand scheme of things, islands have the hardest time trying to transition from traditional thermal energy to clean renewable power. They tend to rely heavily on coal, methane, or oil to keep their generators spinning. Hawai'i is no different. In fact, much of its electricity comes from burning diesel fuel refined from oil. In fact, a third of its oil imports came from Russia until Pooty Poot decided to go full rogue in Ukraine.

That fact, more than any other, has forced Hawai'ian Electric Company (HECO) to rethink its long standing opposition to rooftop solar. A decade ago, its CEO, Shelee Kimura, pressured state lawmakers to reduce incentives for rooftop solar, a tactic that the utility industry has used across the country. According to the New York Times, she argued that rooftop solar is not as efficient as large scale solar and wind farms.

That is technically correct. A kilowatt of electricity from 20 solar panels on a roof costs far more than a kilowatt of electricity from a solar power farm with 10,000 panels. The other side of the coin, however, is that the electricity from a rooftop installation can be used right where it is created and doesn't have to be sent over tens or hundreds of miles of wires to where it is needed. There are two sides to every coin and the utility industry has traditionally only been interested in one of them.

But recent events have caused Kimura and HECO to change their tune. "In Hawaii, we've come to the recognition that rooftop solar is going to be an important part of our grid, has to be part of our grid," she now tells the New York Times. "Some people think we're crazy. Some people think we're pretty amazing."

The state now offers homeowners on Oahu — home to 70% of its population — incentives to install home batteries with their rooftop solar systems. Utility companies can tap those batteries for power between 6 and 8:30 p.m., when energy demand typically peaks, which gives them some control over when electricity from rooftop solar systems flow back into the grid. Without battery storage, they have no such control. "It's a good example of a good policy pivot with utilities and regulators saying, 'We need to change how we approach this,'" said Bryan White, a senior analyst at Wood Mackenzie.

In the past, Hawai'i got 80% of its electricity from oil. That's now down to 66%, but it's still way too high to meet the state's carbon reduction goals. "Dependence on oil is the wrong path," James Griffin, chair of the Hawaii Public Utilities Commission, tells the New York Times. He has dedicated himself to reducing tensions between utilities and the rooftop solar industry.

That industry "fought tooth and nail with HECO to get to where we are today," said Scott Glenn, the state's chief energy officer. "Not only are their decisions changing, but their attitudes are changing." Many in Hawai'i favor large solar or wind energy developments but the state has few large tracts of available land for such projects, which are often beset with monumental permitting hurdles and opposition from community groups.

Rooftop solar may not the preferred choice, but it can be installed quickly and avoid many of those NIMBY battles. Sometimes doing what is possible is preferable to waiting for the ideal solution to a problem to materialize.

Duke Energy Sustainable Solutions and Brigham Young University–Hawaii have announced a campus-wide solar power system that includes three rooftop solar installations and five solar carports throughout the campus. It also has 7.3 MWh of battery storage provided by Tesla Megapacks. The annual electricity production of the project is expected to meet 39% of the university's entire energy each year.

"This project has made BYU–Hawaii more eco-friendly and reduced our environmental impact," says Kevin Schlag, operations vice president. "The combination of solar and battery storage is a smart solution that will allow us to support our students and their education more sustainably by potentially saving the university over $20 million in utility costs over the system's life."

The university financed the project through a 20-year power purchase agreement with Duke Energy Sustainable Solutions.

Finally, there is this solar power news from the Aloha State. Ameresco and Bright Canyon Energy are moving forward with the Kupono Solar Project, a combined solar and battery system to be built at the Joint Base Pearl Harbor-Hickam West Loch Annex in Hawaii. When completed in early 2024, it will supply 42 MW of renewable energy to Hawai'ian Electric's grid on the island of Oahu. The solar park will make use of 131 acres of underutilized land within the military base. The installation will also feature a 42 MW/168 MWh lithium-ion battery storage system.

"The Navy is excited to see this joint Kupono Solar/Hawaiian Electric project move forward for our community's benefit," said Cpt. Randall E. Harmeyer, public works officer at Joint Base Pearl Harbor-Hickam. "This enables us to put 131 acres of underutilized land to long term, sustainable use for Hawaii at a time when the cost and reliability of worldwide energy supplies is of great concern and reflects the Navy's core commitment to energy security and resiliency for America." Kupono Solar will own and operate this solar and battery project under a 20 year power purchase agreement with HECO.

The lessons learned in Hawai'i are fully applicable to every other island community in the world. Come to think of it, all of us live on islands. It's just some are larger than others and are called continents. Burning fossil fuels to make electricity was a great idea in the 19th century. So was burning trees to make steam. But the world can't afford to continue doing that anymore as it hurtles toward a climate crisis of epic proportions.

It's all well and good to look to the past and sing the praises of a bygone era — "Gee, our old LaSalle ran great!" It's quite another to polish the brass on the Titanic as it sinks beneath the waves. In a contest between physics and politics, science always has the final word. Fossil fuels are the past. Solar power and other renewables are the future. Let the sunshine in!

Steve writes about the interface between technology and sustainability from his homes in Florida and Connecticut or anywhere else the Singularity may lead him. You can follow him on Twitter but not on any social media platforms run by evil overlords like Facebook.

#1 most loved electric vehicle, solar energy, and battery news & analysis site in the world.



Support our work today!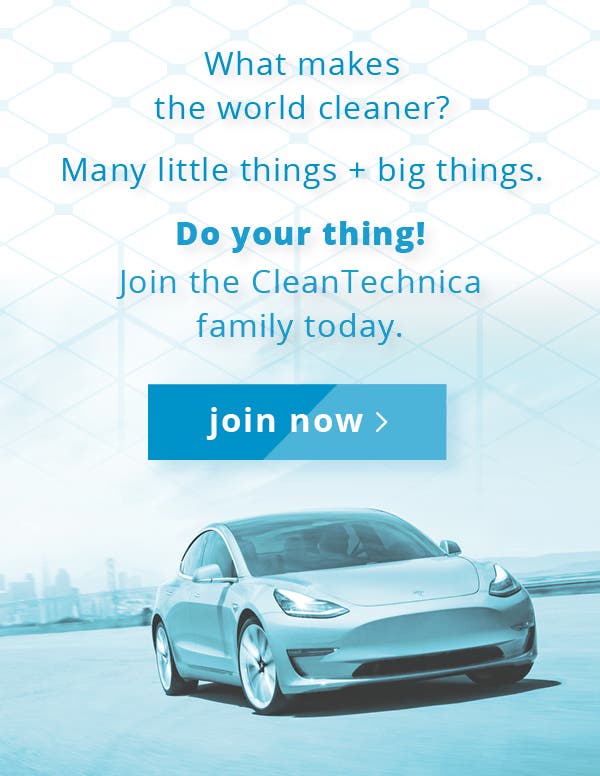 Advertise with CleanTechnica to get your company in front of millions of monthly readers.

History was made in Hawaii recently when a state judge ruled that a lawsuit seeking damages from major oil and gas companies for their climate disinformation campaigns can…

This month, the US Navy appealed an order to drain some leaking underground jet fuel tanks on the island of Oahu, home to Honolulu,…

According to Atlas EV Hub, plugin vehicles hit a record 5.6% share of the automotive market in September, their greatest share of the market…

Largest 100% Clean Energy Microgrid Within U.S. Department of Defense Supports Island Community, Pacific Missile Range Facility, KIUC, and Hawaii's Ambitious Renewable Energy Goals

Copyright © 2021 CleanTechnica. The content produced by this site is for entertainment purposes only. Opinions and comments published on this site may not be sanctioned by and do not necessarily represent the views of CleanTechnica, its owners, sponsors, affiliates, or subsidiaries.
Ads
---
The views expressed in content distributed by Newstex and its re-distributors (collectively, "Newstex Authoritative Content") are solely those of the respective author(s) and not necessarily the views of Newstex et al. It is provided as general information only on an "AS IS" basis, without warranties and conferring no rights, which should not be relied upon as professional advice. Newstex et al. make no claims, promises or guarantees regarding its accuracy or completeness, nor as to the quality of the opinions and commentary contained therein.