A week after an ice storm that knocked out power to hundreds of thousands of Michiganders, the crews repairing the lines — many from other states — are exhausted, and weary, but undeterred in their mission to bring folks out of the darkness and cold.
"I'm tired. I'm on about five hours sleep," Seth Hartwick, 46, of Belleville, said Tuesday afternoon while on a work site in Detroit. "But this is what we do. There's no one else to get the lights on but us. And we don't quit until the job is done."
Folks have found all kinds of villains in Michigan's recent power outage saga — from the utility companies to the tree trimmers — but the heroes, almost everyone agrees, have been the thousands of workers repairing the lines, "the linemen," many call themselves.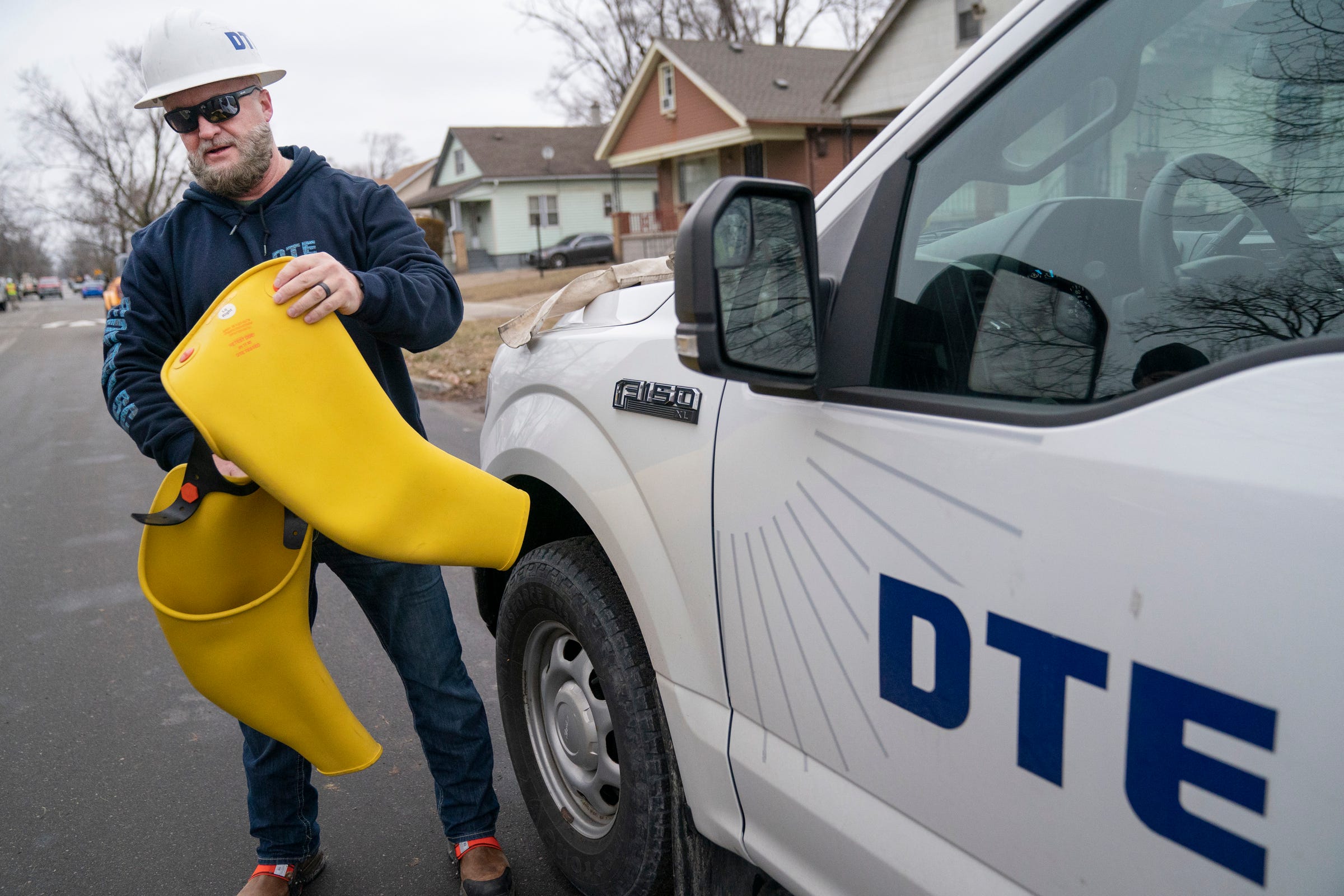 Yes, there are few women — linewomen — on crews.
But Hartwick said most of them are men, guys with similar personality traits. They like to hunt and fish as he does, and, as they work, they regale each other with their tales of adventure. They have strong grips and work out to relax, and, most importantly, they enjoy staring danger in the face.
In 18 years working on the line, Hartwick figures he has worked through hundreds of storms. This past one, which blew through the Midwest on Wednesday, he said, was one of the worst. In some places, it weighed down utility wires with a half-inch coating of ice.
Hartwick said his family lost power. But, he added with a wry grin: "I know a guy who can fix it."
Since Wednesday, the DTE linemen have worked in 16-hour shifts, in freezing rain and ice, and in uncomfortable flame-retardant safety jeans, sweatshirts, coats, thick rubber gloves, boots and hard hats to protect them from falling limbs and electric wires that are "sparking and exploding," and hot enough to burn down a house.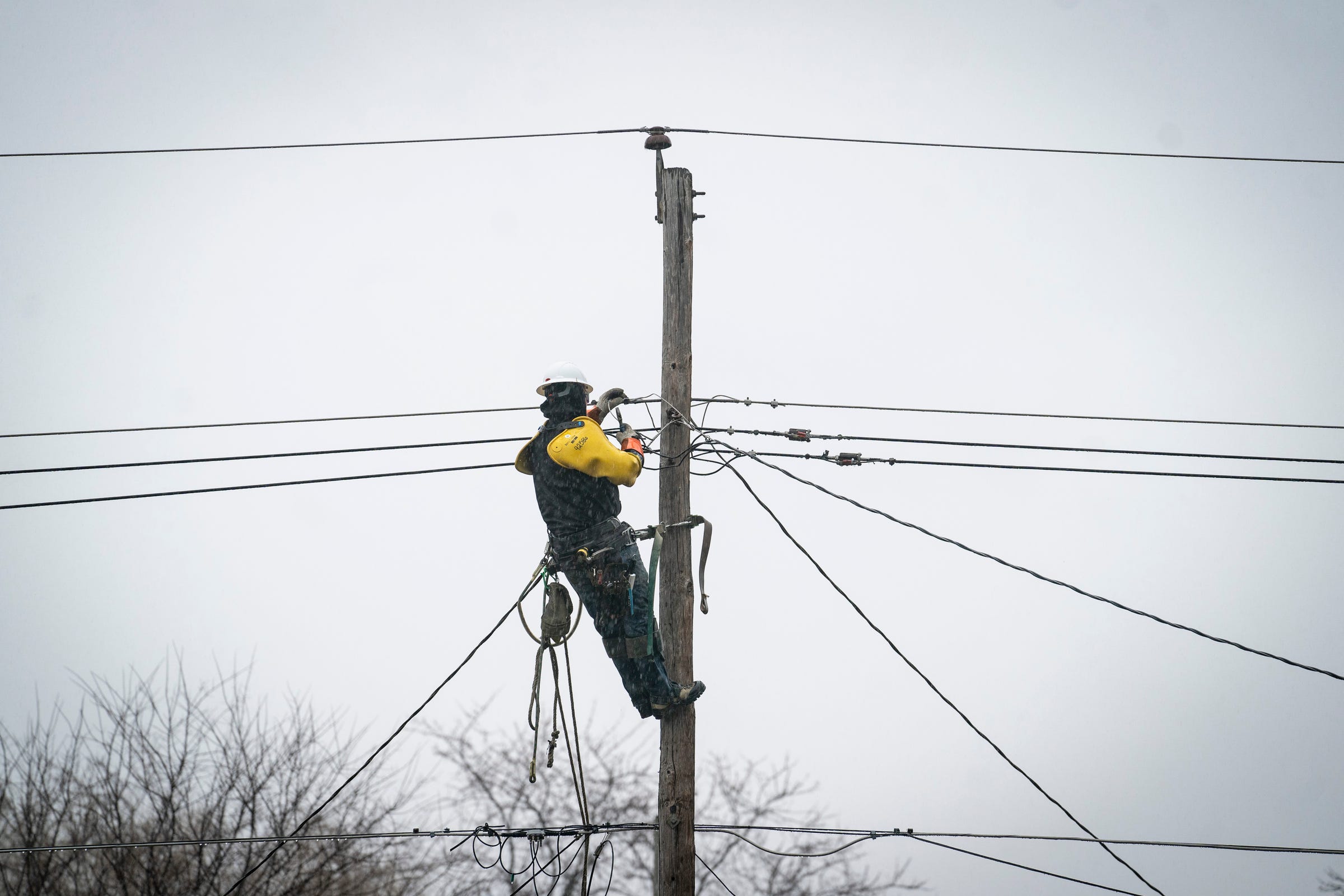 They've been getting up before the sun's up and toiling well into the night — and sometimes into the next morning.
More:Michigan power outages down to 125,000 as DTE, Consumers make push to repair lines
More:Big snowstorm could be headed to Michigan: What to know
In addition to live wires hot enough to send up a 30,000-degree ball of fire, they've dealt with falling branches and trees, vicious dogs, and even some angry customers, who take their frustrations out on the crews because they can't reach anyone else.
"We're the linemen!" Hartwick said. "The fire department won't go do anything until we make it safe."
He added: "You don't get any mistakes in this job. It's very dangerous."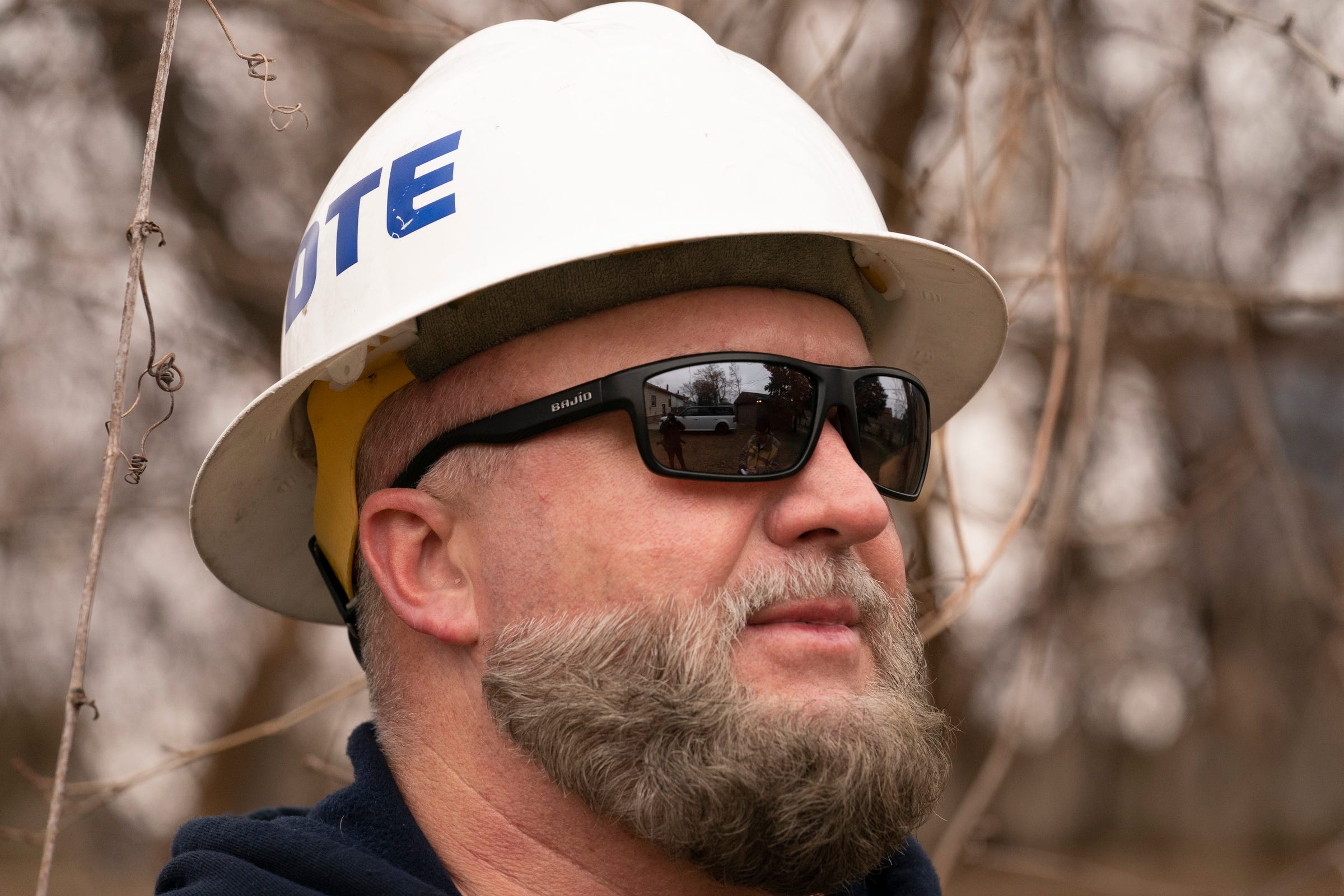 One mistake, and you'll lose a finger, a limb — or your life. Fortunately, no crew members have died yet.
Early in the morning, Hartwick kisses his wife, Shannen, who also works for DTE, goodbye, and plays with their 20-month-old boy, Hixon, who he named after a kid he saw casting on a fishing trip. If I ever have a son, he told himself, back then, he'd call him Hixon. And he did.
On the long days, he said, he tries to FaceTime his family.
Sometimes, he said, customers take their anger out on them. They smile and keep working.
"Obviously, it's frustrating to be out of power for days at a time," he added. "I understand the frustration, but we are working hard to get it back on. Everywhere we go, it's a hazard: a wire down burning, you can walk into the yard with a gate wide open and there's a pit bull under the porch. You are always walking into the unknown."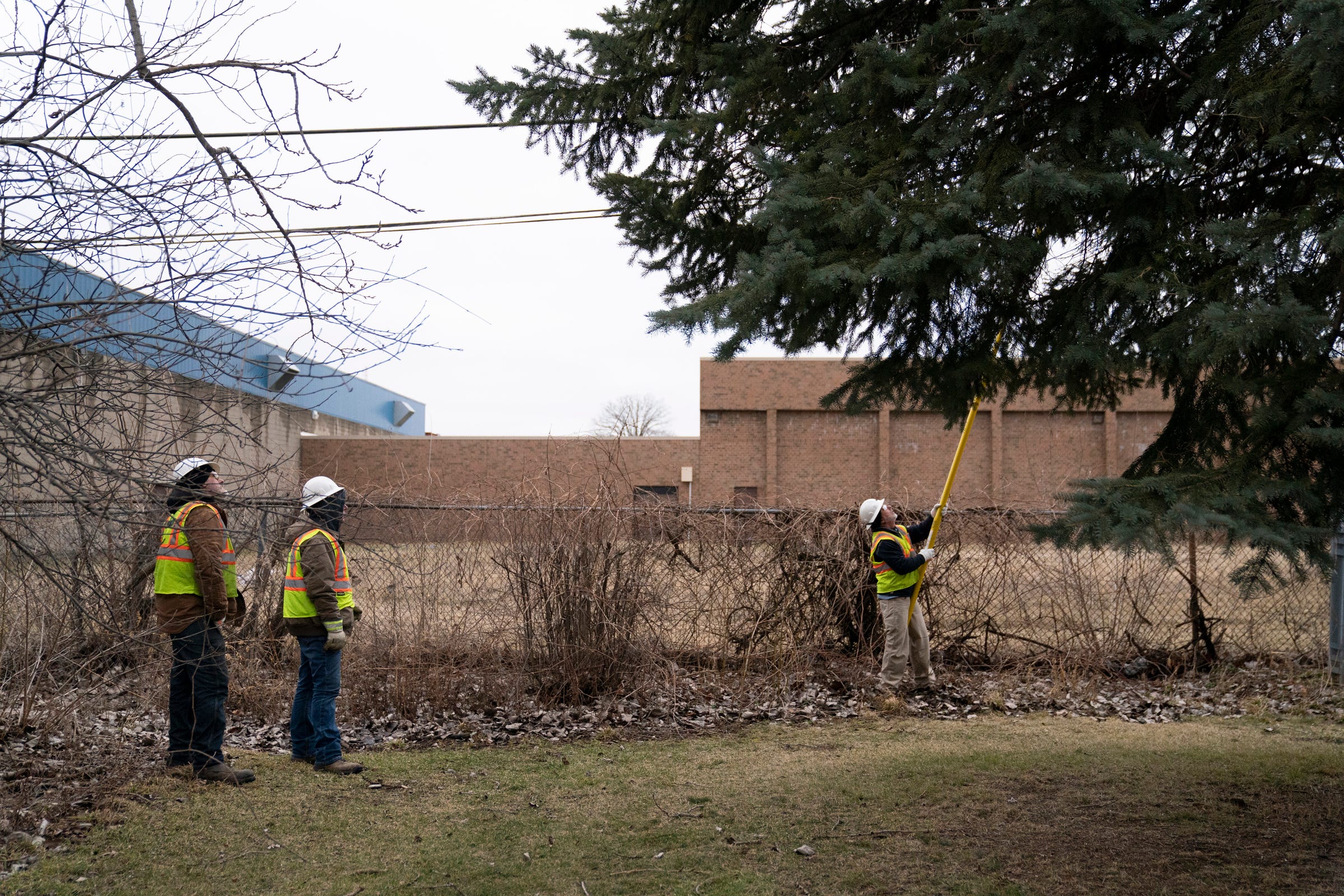 As Hartwick talked, the crew he was overseeing fixed an outage on Birwood Street in Detroit.
"That's the thing about our job, too," he said, pointing to a garage light that suddenly popped on. "Immediate gratification. You do a good job and you get to turn the lights on. It's cool when you light up a whole neighborhood."
A few moments later, a resident, 68-year-old Omar Mannan, approached him about a branch that had fallen on a line. Mannan told Hartwick he had been calling and calling to get it repaired. Hartwick walked over to it, pulled the branch off, and let Mannan know the wire was for the telephone, not electricity.
Mannan said he appreciated the linemen, adding that they've done "a great job."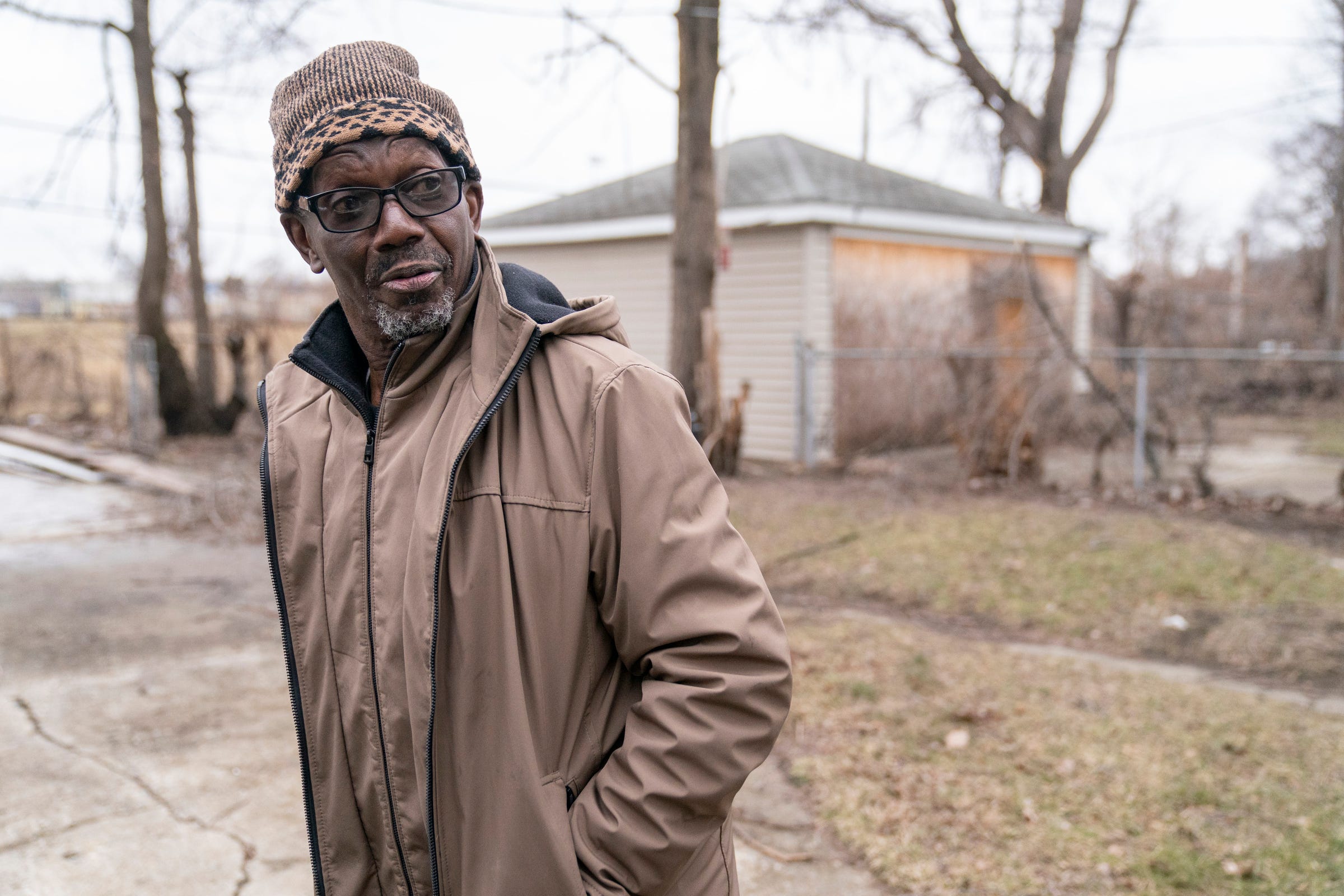 Hartwick said a lot of local linemen, like him, lost power, too, and are "going home to a cold house," they're waking up in a cold house, working in the cold weather, but we are trying. "These guys — the men and women — who do this, take pride in their work. You don't do this job if you don't love it."
Contact Frank Witsil: 313-222-5022 or fwitsil@freepress.com.
Utility credits
Michigan Attorney General Dana Nessel also called on DTE and Consumers Energy to start routinely issuing $35 credits when customers lose power for extended periods, generally for 96 consecutive hours. DTE has said for this batch of outages, customers do not have to apply for the credit, but a $35 credit may take one to two billing cycles for the credit to appear on their bill. Consumers Energy is offering $25 credits to customers who qualify and submit an online request.
This article originally appeared on Detroit Free Press: In power outage saga with many villains, lineworkers in Michigan are fearless heroes