South Dakota regulators questioning NorthWestern Energy's nuclear energy study plans in February were quick to ask whether the utility's Montana customers would be sharing the costs.
NorthWestern approached South Dakota's utility commission Feb. 8, asking for approval to bill customers for a nuclear power plant study. The company indicated that it had already done a month's work with global consultancy Roland Berger and planned to meet a May application deadline for federal subsidies.
The path for nuclear power in Montana is complicated, the utility told South Dakota regulators. In both states, NorthWestern identifies nuclear power as an option to replace retiring coal-fired power plants, should it be forced to do so by regulators, though In Montana the utility is preparing to double the amount of owned coal power in its portfolio.
"NorthWestern has not identified a date certain for nuclear in Montana, only the possibility. But to be ready for the possibility, NorthWestern has modeled retirement scenarios that include adding nuclear in 2030 and 2035," the company told the South Dakota Public Utility Commission.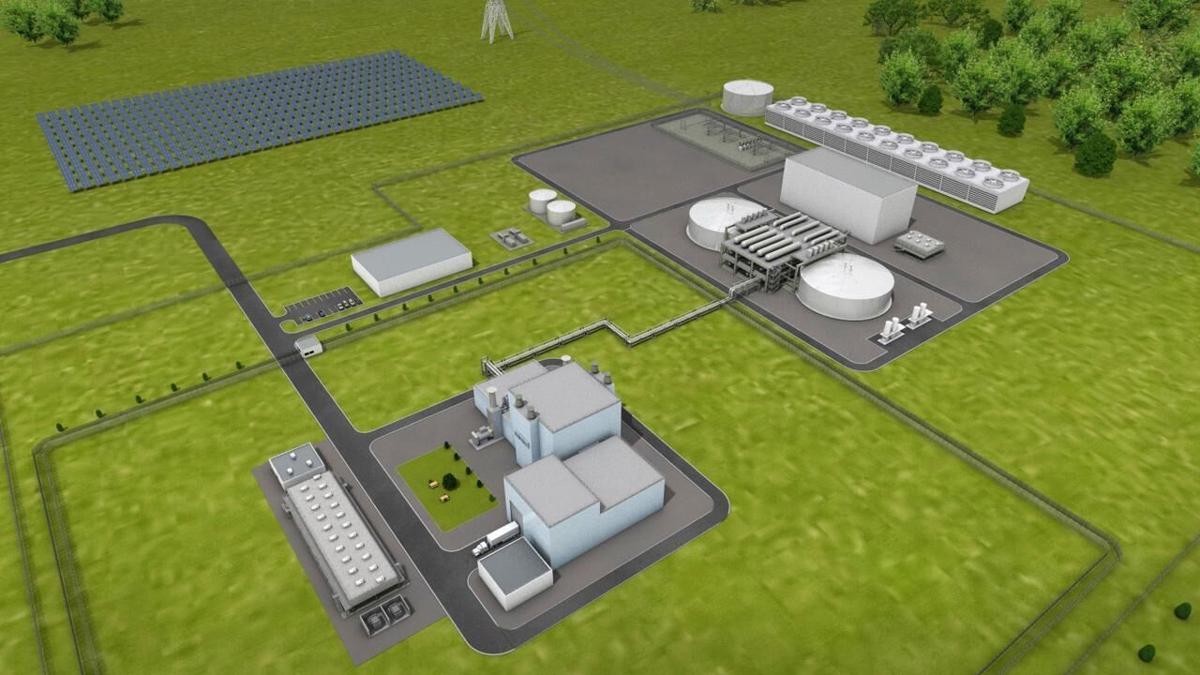 In January, NorthWestern CEO Brian Bird hinted to a Helena audience that the current site of Colstrip Power Plant could be suitable for a nuclear reactor after Colstrip closes, possibly by the end of the decade.
"Guess what a great location to build a non-carbon emitting resource would be? Colstrip has fantastic transmission, consistent transmission that serves us today. It has a highly skilled workforce, who certainly could be trained in other resources down the road, " Bird told the audience.
Both the construction timeline presented by the utility, as well as the price don't reflect the current struggles of nuclear power plants. NorthWestern's Jeff Decker told South Dakota regulators a 320 megawatt power plant would likely cost between $1.2 billion and $1.6 billion, far less than current nuclear power projects, which are currently costing much more, and taking much longer to build than planned.
More:Energy shortage, extreme weather could lead to outages in South Dakota this winter
"Even if it's the overnight cost that doesn't include escalation, or financing costs, this is way too low, per kilowatt," said David Schlissel, director of resource planning analysis at the Institute for Energy Economics and Financial Analysis. "It's way too low. No plant like this has been built or operated. It's just over-optimistic hype to get money to do a study on a project. Prudence would say wait until others have built these reactors, see how much they cost and how well they work."
Asked how it came up with its cost estimate, NorthWestern offered a prepared statement that didn't attempt an answer.
"In South Dakota, NorthWestern Energy applied for an accounting order associated with a nuclear study bill. NorthWestern Energy has not made any decision whether to proceed to develop carbon-free nuclear generation," said Jo Dee Black, a NorthWestern spokesperson. "Rather, this study is intended to help NorthWestern Energy understand the evolving technology and its costs."
Regionally, the nuclear reactor project that is furthest along, with inflation driving up cost estimates, is the NuScale small modular reactor partnership with Utah Associated Municipal Power Systems. The estimated price of the 462-megawatt reactor has increased 75% from $5.3 billion to $9.3 billion. The price of the power to cover the bill has risen from $58 per megawatt hour to $89.
UAMPS members are municipal-based monopoly utilities, who make good partners for the cutting-edge projects because utility customers are "captive" meaning they cannot shop around for a better deal and would be obligated to cover reactor costs.
A larger scale project by Georgia Power has seen its estimated price increase from $14 billion to $30 billion with a completion date delayed 6 years.
TerraPower announced in December that it was delaying its plans for a reactor in Wyoming by two years because Russia was its lone fuel source and the rogue nation's war with Ukraine is complicating supply.
More:Wind energy is now South Dakota's No. 1 producer of electricity, but not every day
In Washington, small modular reactor developer X-energy Reactor Company announced that it was withdrawing plans to build a reactor at the federal government's Hanford nuclear site near the Tri-Cities. The Washington reactor was to be X-energy's first, a demonstration project that will now be relocated to a Dow Chemical site on the Gulf Coast, according to the company.
X-energy's reactor project was similar to the one described by NorthWestern to the South Dakota PUC, an 80 MW reactor that could be scaled up to 320 MW in what X-energy described as a 4-pack of reactors. X-energy was selected by the Department of Energy to receive up to $1.2 billion to develop a reactor and fuel fabrication facility by 2030. The reactor is a 76 MW capacity small modular unit.
Following a merger earlier this year, X-energy's new owner, Ares Acquisition Corp., issued a cautionary note with the Securities and Exchange Commission warning investors about the risks of investing in projects like theirs.
This article originally appeared on Sioux Falls Argus Leader: Nuclear power a possibility for Montana, NorthWestern tells SD regulators