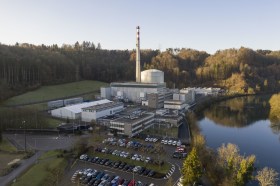 © Keystone / Christian Beutler
Just over half of all Swiss believe that nuclear power plants are important to prevent a shortage of electricity, according to a survey.
This content was published on March 13, 2023 minutes
Keystone-SDA/ac
Of the 9,000 Swiss residents surveyed by the Sotomo Institute, 55% say nuclear power should be a priority to help resolve an energy crisis. The survey results, published on Monday in the daily Blick, showed that 64% of respondents are opposed to the closure of Swiss nuclear power plants by 2037, as demanded by the Green Party. In addition, 56% are "for or rather in favour" of the rapid construction of new nuclear power plants to secure the country's electricity supply.
+ Decommissioning of first Swiss nuclear power plant is on track
Despite public support for nuclear power, it remains the third preferred choice in an energy crisis behind solar and wind power. Of those surveyed, 77% were in favour of solar installations on buildings and 74% wanted large wind turbines to help prevent an energy crunch.
Two-thirds of the Swiss surveyed also support the development of hydroelectric power in the Alps via large-scale projects.
In compliance with the JTI standards
More: SWI swissinfo.ch certified by the Journalism Trust Initiative
---
The views expressed in content distributed by Newstex and its re-distributors (collectively, "Newstex Authoritative Content") are solely those of the respective author(s) and not necessarily the views of Newstex et al. It is provided as general information only on an "AS IS" basis, without warranties and conferring no rights, which should not be relied upon as professional advice. Newstex et al. make no claims, promises or guarantees regarding its accuracy or completeness, nor as to the quality of the opinions and commentary contained therein.