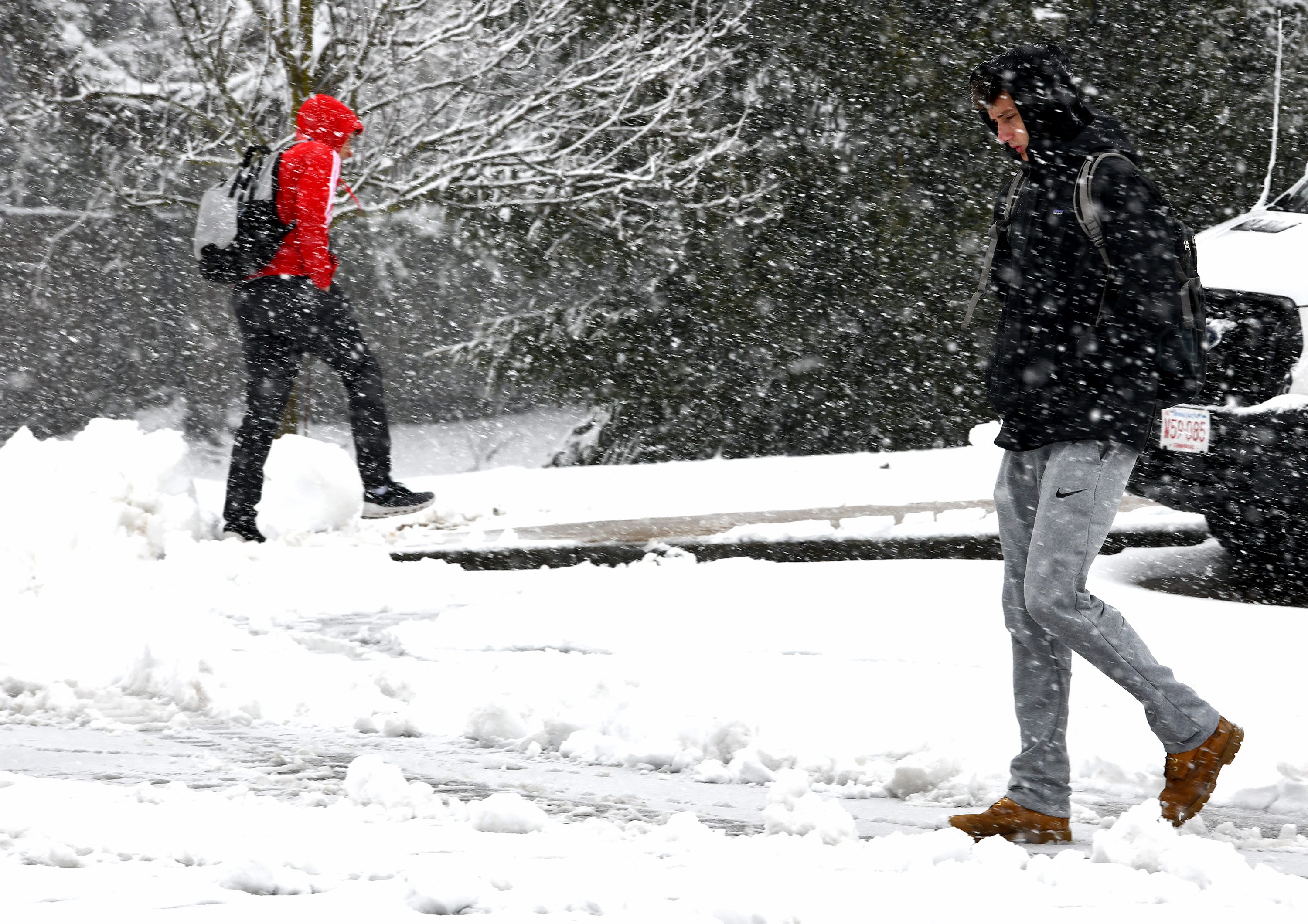 WORCESTER — After an appetizer of rain during early morning, heavy snow arrived in Worcester shortly after 8 a.m. Tuesday. Communities in northern Central Massachusetts saw snow hours earlier, with Ashburnham registering 10 inches before dawn.
Meanwhile thousands of customers were without power, particularly in the northern part of the region. Around 8:30 a.m., there were more than 4,000 customers without power in Fitchburg, more than 3,000 without power in Leominster and more than 1,000 without power in Lunenburg.
Worcester is in line for as much as 18 inches of snow, according to the National Weather Service.
As of 8 a.m., the weather service was listing the following totals: Ashburnham 12.7 inches; Sterling 11.5; Phillipston 9.5, Princeton 8.8 and Rutland 8.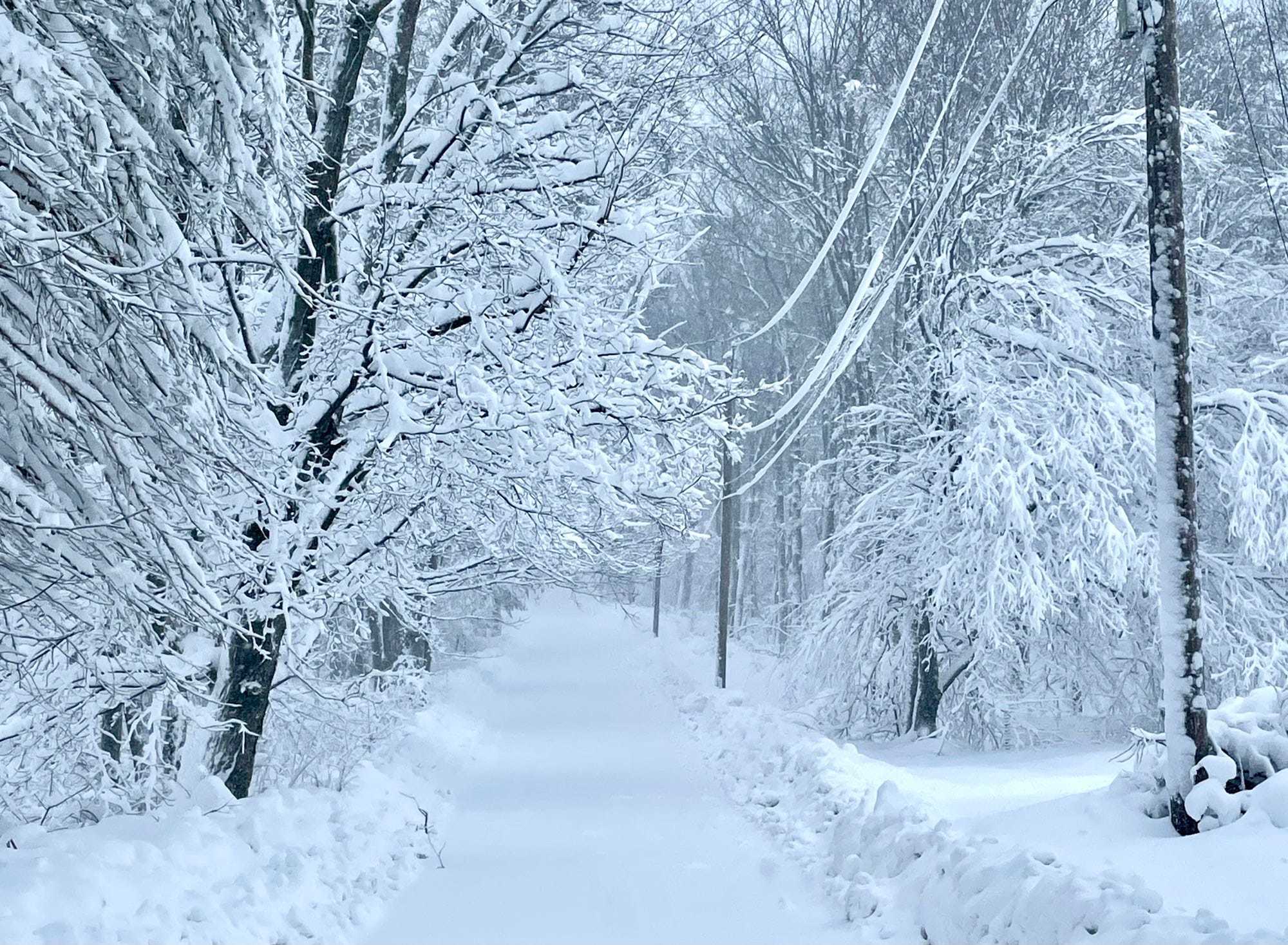 A parking ban is in effect in Worcester.
The Worcester Public Schools announced that classes would be canceled for Tuesday. Afterschool activities are also canceled. The Massachusetts Interscholastic Athletic Association postponed state basketball semifinal games that had been scheduled for Tuesday night.
Most school districts and colleges in the region will be closed Tuesday.
More:School closings
Much of the region is seeing heavy winds Tuesday morning. The Massachusetts Emergency Management Agency is reporting scattered outages in Central Mass.
Outage map:Massachusetts Emergency Management Agency
The Worcester City Council meeting slated for Tuesday evening has been canceled. The Worcester Senior Center is closed.
The speed limit on the Massachusetts Turnpike between the New York border and Millbury has been reduced to 40 mph.
The snow is expected to continue falling throughout the day Tuesday, with winds intensifying into Tuesday night, and to end early Wednesday afternoon, with a possibility of more rain after that.
"If you have to get somewhere (Tuesday) morning, have to do a commute, you have to do it before that transition," Worcester Commissioner of Public Works & Parks Jay Fink said during a new conference late Monday afternoon at the city's public works yard on Albany Street.
"We're looking at possibly three or four hours of that heavy, heavy snow coming down."
Fink added the near freezing temperatures Tuesday morning will result in heavy, wet snow that will be difficult to plow and move off the street, and he expects equipment difficulties during the intense, prolonged snowfall.
"When you have more than six inches of heavy, wet snow to push around, breakage becomes an issue," he said.
Fink said at the height of the storm there will be about 325 pieces of equipment on the road.
Little to no salting or sanding
Due to the rain, there will be little opportunity to do any salting or sanding before the snow as it will be washed away.
"There's not much prep work we can do," said Fink, "we will be starting at ground zero (Tuesday)."
When the snow begins, crews will try to put salt on the road but that depends on speed of transition from rain to snow, Fink said.
As it is, Fink said he doubts there will be enough time to salt and sand the 480 miles of Worcester roads before they have to start plowing.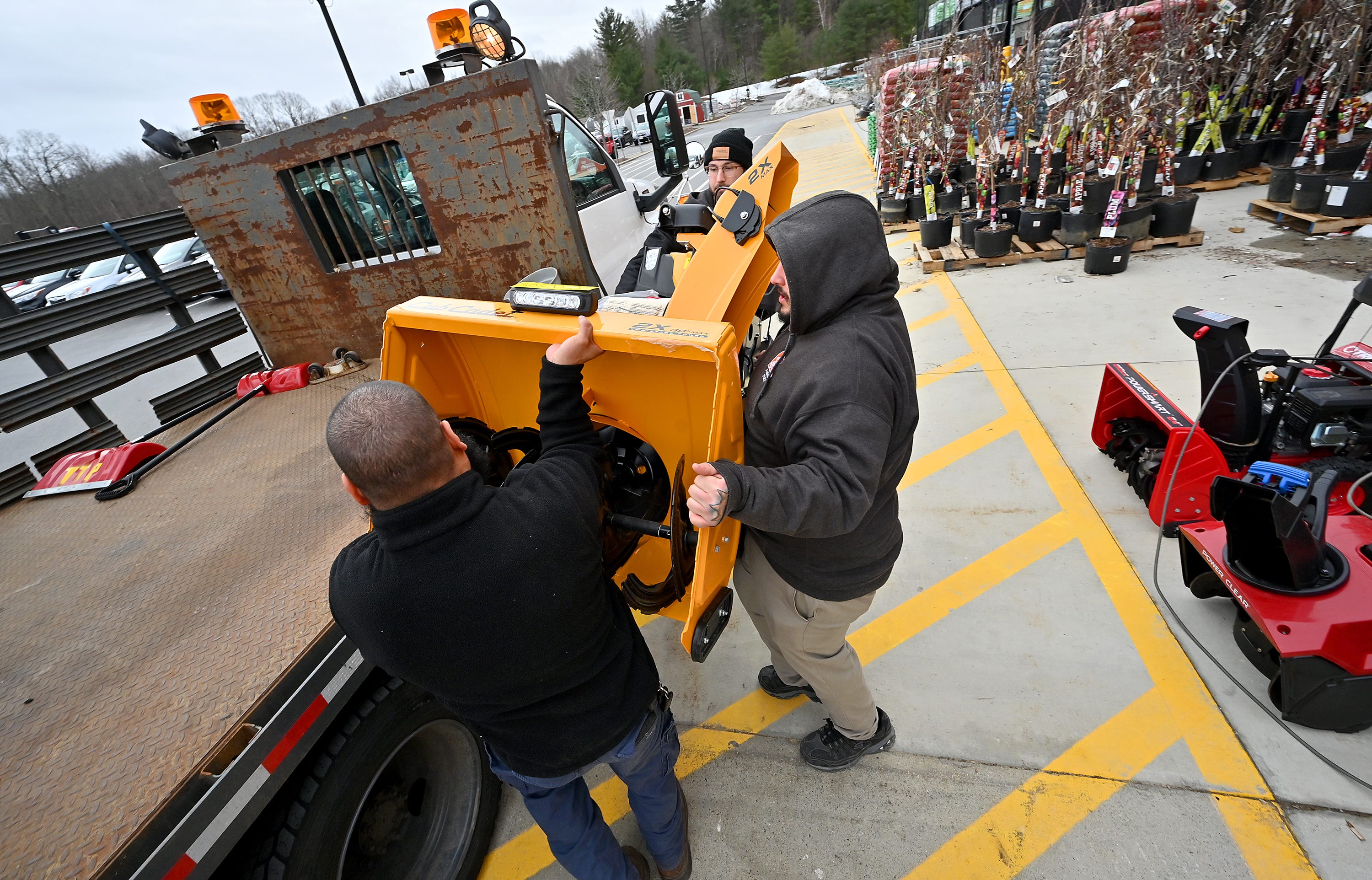 State workers advised to stay home
Also late Monday, Gov. Maura Healey said nonemergency state employees working in Executive Branch agencies should not report to their workplaces Tuesday due to the impending winter weather.
Employees who have the capacity to telework will be expected to do so, she said, in accordance with state policy.
Power failures possible
The combination of heavy, wet snow and gusty winds raise the possibility of power failures throughout the region.
National Grid said Monday morning that it had secured more than 1,000 crews and more than 3,000 workers to take part in storm response operations across the state.
"National Grid has been monitoring the forecasts closely for multiple days," Tanya Moniz-Witten, National Grid's vice president for electric operations in New England, said in a news release. "We have secured additional crews and personnel across Massachusetts who are ready to respond as quickly and safely as possible to any impact this storm may bring."
The company said customers could report power failures at nationalgridus.com, or by calling 1-800-465-1212.
The status of power outages, including expected restoration times, will be available at www.nationalgridus.com/outage-central.
Parking bans in Worcester, Fitchburg
Municipal parking garages in the city will be free for any vehicle that enters after 8 p.m. Monday until the parking ban is lifted. Event rates will still apply in cases of parking for a special event.
During the parking ban, parking is prohibited on either side of main arteries, emergency and bus routes, and streets in the downtown area critical to the flow of traffic. On all other streets, parking is only permitted on the odd numbered side of the street, unless otherwise posted.
Towing and ticketing may be enforced to keep streets clear.
The city also reminded residents that they have up to 10 hours from the end of a winter storm to clear the sidewalks abutting their property of any snow and ice. Residents who are able are also asked to clear snow around fire hydrants and catch basins in their neighborhoods. Snow should not be put in the street.
Fitchburg announced a parking ban will be in place from 9 p.m. Monday through noon Wednesday.
Trash, recycling delayed
The City of Worcester said trash and recycling pickup would be delayed by one day, starting Tuesday and continuing through the end of the week.
Bomb cyclone?
Two weather systems – one coming from the upper Midwest and another from off the Carolina coast – will join forces and could produce a "bomb cyclone," a storm that undergoes rapid intensification, according to AccuWeather.
"When a storm undergoes bombogenesis, the central pressure of a storm experiences a pressure drop of 0.71 of an inch of mercury (24 mb) in 24 hours or less," senior meteorologist Alex Sosnowski said on the AccuWeather website.
When the pressure drop occurs in the center of the storm, it creates a giant vacuum effect. Air then rushes toward the center in the form of powerful winds, sometimes similar to how a hurricane develops."
"I know it's going to be the biggest snowstorm of the season so far," said Fink, "I'm hoping it's the biggest we'll see this year."
Return to telegram.com for more on this story.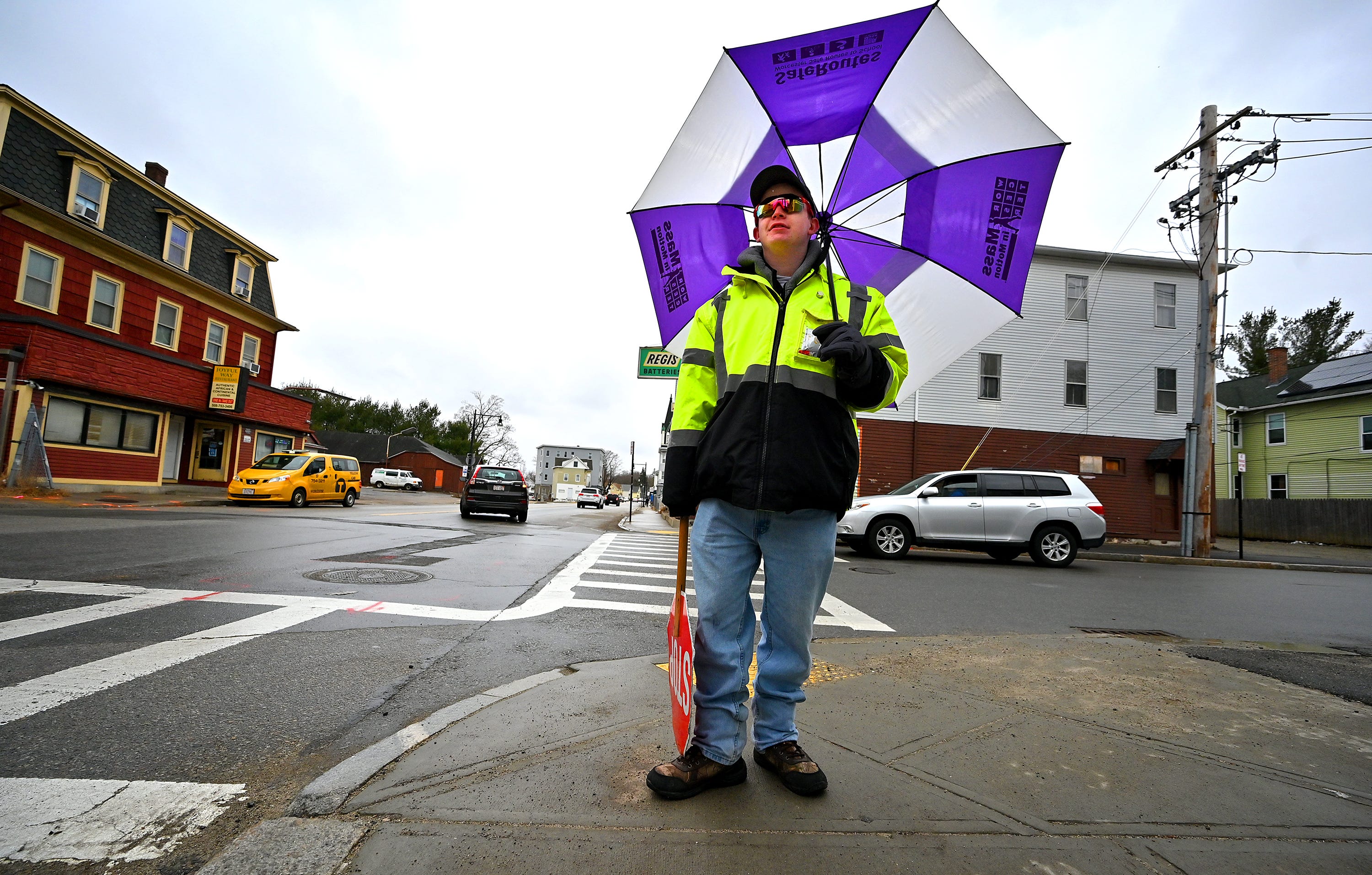 This article originally appeared on Telegram & Gazette: Thousands without power, school canceled as nor'easter approaches Central Mass.