As the state readies to review another round of offshore wind development bids, Avangrid Renewables reports it is staying on course to end its current contract and take its chances with seeking a new one — the best route, the company says, to navigate a maelstrom of economic challenges that make the present agreement untenable.
The move makes uncertain the company's 1,200-megawatt Commonwealth Wind project. The project, the most ambitious yet proposed for wind lease areas south of Martha's Vineyard, is targeted to become operational in 2028.
"We remain committed to delivering clean offshore wind energy to help Massachusetts meet its climate goals, as demonstrated by the current construction of Avangrid's Vineyard Wind 1 project, which is on track to deliver energy by the end of 2023," the company said.
Ukraine war, inflation, interest rates affecting Massachusetts offshore wind contracts, developers say.
The Commonwealth Wind project is troubled by supply chain issues, rising costs tied to the war in Ukraine, inflation, rising interest rates, and burgeoning worldwide interest in offshore wind development, the company said.
The project is not the only one struggling with such challenges. At a January open house in Barnstable about Park City Wind, another Avangrid project that proposes to land cables on Cape Cod and ultimately transmit power to Connecticut, executives pointed at the same causes driving up costs and necessitating some regrouping.
The war in Ukraine particularly has "wreaked havoc" on the cost of steel, a key component in wind turbines, according to the project's manager of external affairs Patrick Johnson. That's because the country is a major producer and exporter of steel, but the war has interrupted the industry there.
What was profitable 2-3 years ago is no longer, due to changed economic conditions, the offshore wind development companies say.
When Park City Wind and Commonwealth Wind were bid in 2019 and 2021, their supply contracts were not locked in because there were still years of permitting ahead, according to Johnson. Given the world economic situation, "projects that were profitable under yesterday's economic conditions are no longer profitable," he said.
After it was chosen in the 2021 procurement round, Commonwealth Wind entered agreements with Massachusetts utilities last spring that included the rates the utilities would pay for the power generated offshore. By fall, though, the company reported unforeseen and precipitous cost increases that were making it difficult to see through the project without adjusting the rates.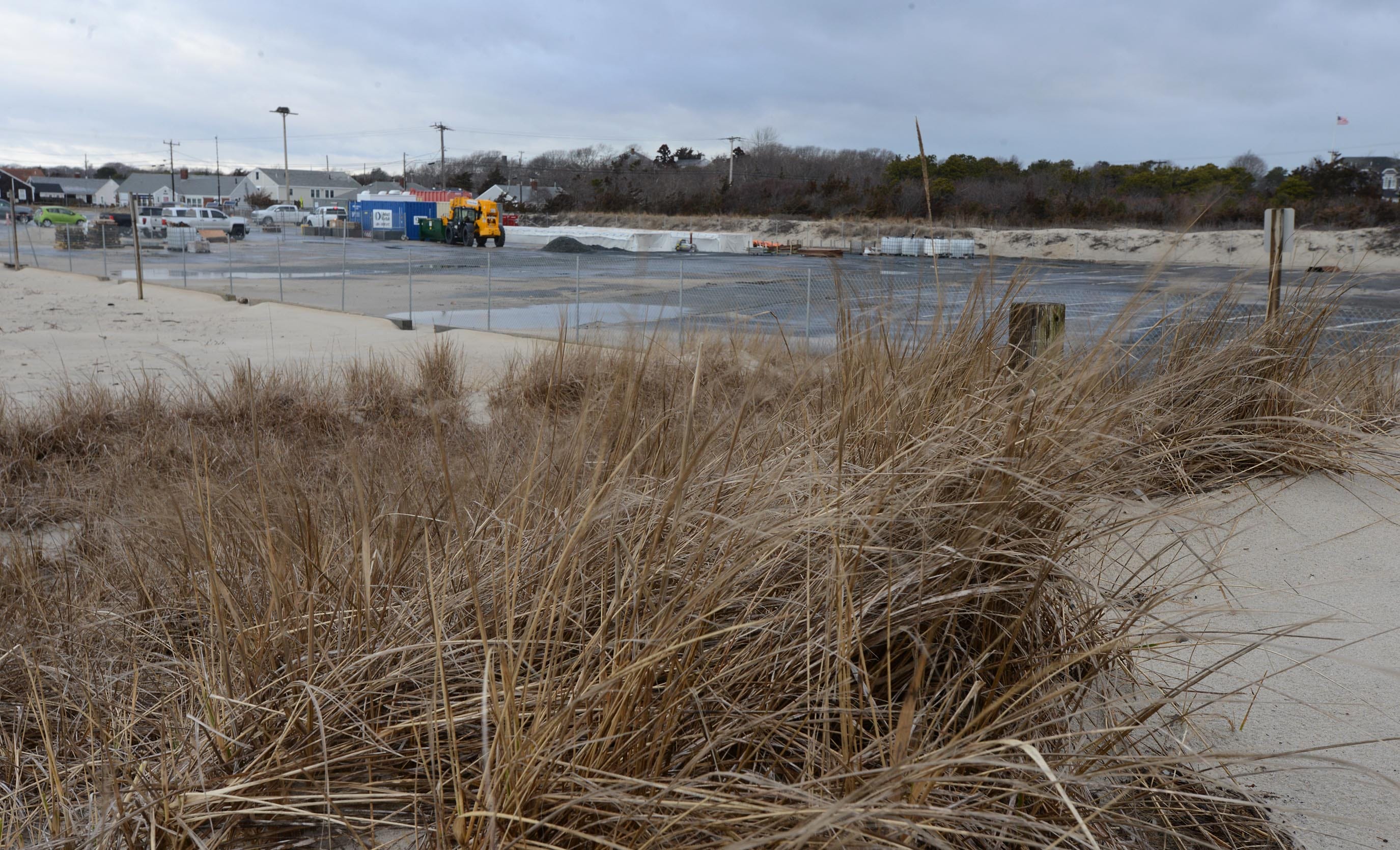 What is the plan now for Commonwealth Wind and Park City Wind?
Failed efforts to reopen negotiations led to Avangrid's decision to rebid while continuing with the permitting already underway. Commonwealth Wind will do this with the next state offshore wind power procurement round expected to open in April or early May. The company is similarly working with Connecticut officials either to renegotiate its existing Park City Wind contract or go to bid again.
"We are working with all stakeholders to find private and public solutions to the global price increases outside of our control, and believe the best path forward to deliver Commonwealth Wind is in the termination of the current contracts and moving forward in the next offshore wind procurement," the company said.
Massachusetts officials respond to Avangrid's plan to terminate its Commonwealth Wind contract
Meanwhile, Avangrid has experienced blowback from state leaders because of its plans to terminate its current contract — which the agreement does allow, with a penalty — and start anew. Recent efforts by the Healey administration to help address the issues with Commonwealth Wind were unsuccessful and it is becoming clear that issues around the state's last offshore wind procurement will loom large over the upcoming round of bidding, according to State House News Service.
What To Know: Offshore wind farms off Cape Cod and Martha's Vineyard
In a Feb. 28 letter submitted to the Massachusetts Department of Energy Resources, Senate Ways and Means Committee Chairman Sen. Michael Rodrigues, D-Westport, wrote that he is "deeply dismayed" by Avangrid's plans. In his opinion, the legislator wrote, terminating a contract from a previous procurement is "unacceptable," and "no company should be allowed to simply walk away from contracts negotiated and awarded in good faith."
"The Commonwealth of Massachusetts should not set this kind of precedent," Rodrigues wrote. "I firmly believe that any company that non-performs on an existing contract should be deemed disqualified and be barred from bidding on any future projects in the state."
Osterville community members are watching the developments closely.
In Osterville, members of the Save Greater Dowses Beach group, concerned about the company's proposal to land cables on the beach, are closely watching the developments. Members stress they are not against offshore wind power, but oppose allowing the project to come ashore on the beach, which they say is part of a delicate estuarine system.
"I'm glad others are realizing this developer does not have the best track record when it comes to the public interest — this project has been ill-conceived from the start," Susanne Conley, a lead member of the group, said. "The state should step in and take control of the process, the parameters, and especially, from our group's perspective, how electricity will be exported from future ocean wind farms."
Opposition to Dowses Beach landingCold wind blows on proposed offshore cable landing at Dowses Beach
State regulators have a duty to both ensure offshore wind projects are viable and protect ratepayers, a state legislator said.
Rodrigues hopes the state Department of Energy Resources takes his concerns into consideration when reviewing and accepting the bids in the next procurement. He acknowledges the agency has the task of determining "how to best balance 'current and future rates of inflation, supply chain issues, and other economic pressures on the offshore wind industry to both ensure project viability and protect ratepayers.'"
"With the burgeoning renewable energy industry now taking a firm foothold in the eastern United States, wind power is emerging as the preeminent leader in replacing the fossil fuel energy industry," Rodrigues wrote.
What about SouthCoast Wind, which is considering use of land in Falmouth for electrical infrastructure?
According to State House News Service, the other offshore wind project selected in the state's 2021 procurement round, which recently changed its name from Mayflower Wind to SouthCoast Wind, has similarly said that economic conditions have made it much harder to finance its project than when it was selected. The company stopped short of saying the project is no longer viable.
SouthCoast Wind CEO Francis Slingsby indicated to The Times that the project remains on track with the federal permitting of its offshore wind farm.
"The U.S. Bureau of Ocean Energy Management is currently conducting its public comment period on the Draft Environmental Impact Statement with public hearings occurring over the next two weeks," he said.
The company still has plans to connect its first 1,200 megawatts from its offshore wind area to Brayton Point in Somerset. The company is exploring future uses of areas in Falmouth.
The cost to build almost anything has increased, state Sen. Julian Cyr said.
State Sen. Julian Cyr, D-Truro, said he understands that both companies — the only two to enter bids in the last procurement round — are facing the same problem: rising costs have made it a challenge to proceed as planned.
"My sense is that Commonwealth Wind is trying a strategy to be relatively upfront about where they are," he said, "and, of course, policymakers have reacted with some worry about the increase in costs."
"The cost to build almost anything has increased," Cyr said, pointing to the $38 million increase in costs for rebuilding Nauset Regional High School.
Cyr declined to remark on Rodrigues' opinion about the company's plans, but did say the state can't afford to lose sight of the ultimate goal set by the Massachusetts Clean Energy and Climate Plan: to reach 100% clean energy supply in the next seven years, and net-zero emissions by 2050.
"We have to figure out is what is a reasonable cost, through negotiation or this rebidding, what is reasonable in advancing the twin goals of clean energy and saving money for ratepayers," Cyr said.
At the end of the day, climate change isn't going to wait, one legislator said.
At the end of the day, Cyr noted, climate change isn't going to wait. Helping to lessen its impact by moving to green and sustainable energy is essential, especially for places like Cape Cod and the Islands. Timing is of the essence because other states are advancing offshore wind projects too, and competition for resources is increasing, he said.
"My hope is we can figure out another path forward to build these because, if we fall behind, I worry that Massachusetts could lose out to competing states," he added.
Gain access to premium Cape Cod Times content by subscribing.
This article originally appeared on Cape Cod Times: Offshore wind projects face uncertainty with existing contracts. Cape Codders respond.