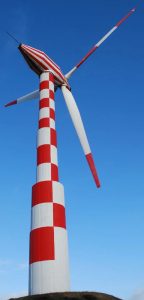 Thanks to the glorious BBC World Service in the middle of last night, I learned that the first multi-MW wind turbine was (and is) Tvindkraf, designed, built and financed in the 1970s, not by a company, but by a bunch of teachers from a school in Denmark.
The concrete tower is 53m tall and the glass fibre rotor is 54m in diameter.
Output is described as 'initially 2MW and functionally 1MW', and annual yield is 500MWh.
With other volunteers, the teachers learned to design and construct the whole thing from scratch, and open-sourced their ideas – including the variable-pitch fibreglass blades, apparently kick-starting Denmark's wind turbine industry.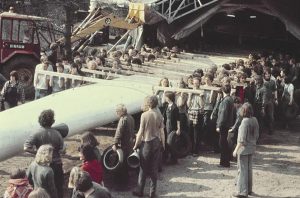 Construction on the novel foundation began in May 1975, with 400 volunteers helping with the groundwork. The turbine was officially opened in March 1978 "and has continuously been improved with the latest technology. Tvindkraft stood as the tallest wind turbine well into the 1990s", according to Tvindkraf's website. "The windmill team outperformed everyone in the industry by developing a wind turbine with a modern pitch system, innovative fibreglass blades, use of a frequency converter allowing for variable speed, and computer controls."
The generator is a 1954 1.725MW synchronous AC model from Sweden's ASEA, and the propeller shaft is literally that, from oil tanker, via a Rotterdam scrap yard.
This Tvindkraft website page has some more on the innovative 27m 5,000kg blades

this page has excellent information in the horizontal scrolling strip at the bottom

and here is the appropriate BBC World Service Witness history programme
Images above are copied from the website www.tvindkraft.dk. Please contact Electronics Weekly if it has been used here inappropriately so that they can be removed.
The post The first multi-MW wind turbine was built by teachers appeared first on Electronics Weekly.