Canadian Solar Inc .'s CSIQ arm, CSI Energy Storage, has inked a deal to supply 40 megawatt-hour (MWh) capacity of battery storage systems to Unibal in the United Kingdom. Per the deal, Canadian Solar will supply its SolBank battery storage systems to two projects, which are expected to be online in the first quarter of 2024.
The company has also locked in a long-term service agreement involving the projects, thus attaining a twin-fold benefit from the deal.
Canadian Solar's Growth Prospects in the UK
The UK renewable market portrays immense scope for expansion as the nation gradually moves ahead to phase out dependence on fossil fuels. In this context, the increased penetration of the renewable market has given a platform for battery storage systems to expand on a large scale.
Per the latest report from the energy research firm, Rystad Energy, the UK is currently bestowed with 4.7 gigawatts (GW) of installed energy storage capacity and is likely to grow to reach 24 GW over the next 10 years. This entails significant growth opportunities for companies like CSIQ, which provide state-of-the-art battery storage solutions in the market.
Buoyed by such reliable and sustainable battery storage solutions, CSI Energy Storage has already reached agreements to supply 779 MWh of energy storage solutions to many projects across the United Kingdom. The latest deal boosts its footprint in the nation.
Moreover, the company's battery storage total annual manufacturing capacity for SolBank was 2.5 gigawatt-hours (GWh) as of Mar 31, 2023, and CSIQ aims to expand the total annual capacity to 10 GWh by December 2023. Such an expansion strategy will assist the company in capitalizing on the opportunistic battery storage market by meeting the growing demand effectively.
Solar Growth Prospects in the UK & Peer Moves
The battery storage market and the solar market are intricately connected. Per the report from Mordor Intelligence, the UK solar market is expected to witness a CAGR of 5% through 2027. Promising returns from the UK's solar market have led several solar companies to carve out a position in the UK battery storage market and reap significant benefits. Solar companies that are enjoying the perks of the expanding UK solar market are as follows:
Enphase Energy ENPH : In May 2023, the company announced that its installers are witnessing the wider product adoption of its Enphase Energy System, powered by the 1Q7 family of microinverters, in residential solar energy systems of the United Kingdom.
Enphase boasts a long-term earnings growth rate of 26%. ENPH shares have risen 12.4% in the past month.
Emeren SOL: In October 2022, SOL announced the strategic acquisition of the U.K.-based utility-scale solar power and battery project developer, Emeren Limited.
The Zacks Consensus Estimate for Emeren's 2023 sales suggests a growth rate of 96.9% from the prior-year reported figure. The Zacks Consensus Estimate for SOL's 2023 earnings has been revised upward by 32.3% in the past 60 days.
Price Movement
In a year, shares of Canadian Solar have soared 12.4% compared with the industry's growth of 10.5%.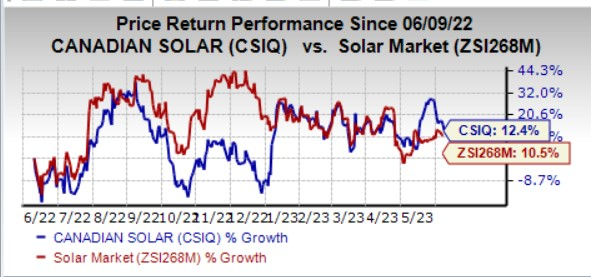 Image Source: Zacks Investment Research
Zacks Rank
Canadian Solar currently carries a Zacks Rank #3 (Hold). A better-ranked stock in the same industry is Maxeon Solar Technologies MAXN, which carries a Zacks Rank #2 (Buy). You can see the complete list of today's Zacks #1 Rank (Strong Buy) stocks here .
The Zacks Consensus Estimate for Maxeon's 2023 sales suggests a growth rate of 41.4% from the prior-year reported figure. The company delivered an earnings surprise of 190.2% in the last reported quarter.
MAXN delivered a four-quarter average earnings surprise of 36.7%. The Zacks Consensus Estimate for 2024 sales suggests a growth rate of 17.1% from the prior-year reported figure.
4 Oil Stocks with Massive Upsides
Global demand for oil is through the roof... and oil producers are struggling to keep up. So even though oil prices are well off their recent highs, you can expect big profits from the companies that supply the world with "black gold."
Zacks Investment Research has just released an urgent special report to help you bank on this trend.
In Oil Market on Fire, you'll discover 4 unexpected oil and gas stocks positioned for big gains in the coming weeks and months. You don't want to miss these recommendations.
Download your free report now to see them.
Want the latest recommendations from Zacks Investment Research? Today, you can download 7 Best Stocks for the Next 30 Days. Click to get this free report

Emeren Group Ltd. Sponsored ADR (SOL): Free Stock Analysis Report



Canadian Solar Inc. (CSIQ): Free Stock Analysis Report



Enphase Energy, Inc. (ENPH): Free Stock Analysis Report



Maxeon Solar Technologies, Ltd. (MAXN): Free Stock Analysis Report
To read this article on Zacks.com click here.