I do like to keep track of Spot's progress, the peripatetic robotic dog from Boston Dynamics. He has now been spotted in Dounreay, working on a UK nuclear decommissioning site.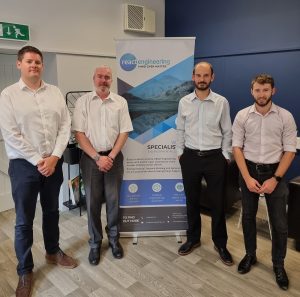 And it's not just one robotic dog, but twins.
The two robots entered an evaporator cell and swabbed their surroundings, in what is described as "most complex deployment of a Spot robot" in a nuclear facility to date.
React Engineering – as part of the Nuclear Decommissioning Ltd consortium – is working to decommission parts of Dounreay, near Thurso in Scotland. Although no one has set foot in this particular Evaporator Cell for more than 30 years, the Spots have been employed for the job. More information was needed from the site before employees can enter the area.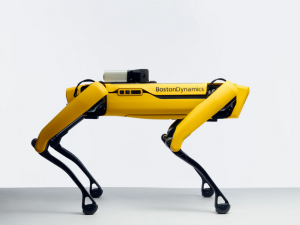 React Engineering writes:
"Working with Createc and Boston Dynamics' Spot the dog robots, the team came up with a plan to support decommissioning planning for the facility. Two Spot robots were sent in carrying a range of equipment, enabling them to capture the dimensions of the cell, take swabs for radioactivity readings and set up effective communication channels to send back images and videos to the team.

"The information obtained from the survey is pivotal in developing the decommissioning plan as uncertainty has a cost. The robots were able to assist the team in testing previous assumptions and providing more certainty going forwards. Now, the team can design a decommissioning plan understanding the safety hazards, providing cost savings and enabling more informed decision making."
Chris Weir – Principal Consultant, React-NDL – was enthusiastic about the project's results, and described what was involved.
"The survey detectors were mounted onto the back of one of the robot dogs. A second dog was equipped with an arm, this one carried in a radio transponder which established a communications network in the cell to help with data transfer and control of the dogs throughout the large complex cell.

"The survey robot was equipped with a directional radiation sensor, a standard dose probe, Pan-Tilt-Zoom camera and Createc's N-Visage Explore payload, including the Leica BLK ARC LiDAR scanner and advanced radiation detectors which mapped the geometry of the cell as the survey progressed. These are in addition to the on-board cameras and sensors already on the Boston Dynamics robot.

"So, as well as radiation, the survey recorded cell geometry and took a targeted image and video survey to look at areas of interest to the plant engineering team. In an industry first, the second arm-equipped dog was also used to take contamination swabs. It was a fascinating project to work on, using cutting edge technology to get a complex job done."
Note that the survey actually began back in November 2022, apparently, with the Spots extracting insights that would not have been possible from traditional technologies.
You can read more about React Engineering here. Pictured above, from left to right are: Adrian Gate- Head of Projects (React), Tony Knowles (Dounreay), Chris Weir and Tom Murphy (both React)
As is traditional, I'll end this "Spot post" rounding up previous spottings. These include monitoring the process at GloFo, inspecting ruins at Pompeii, roaming a Norwegian oil rig, going on Covid-19 patrol in Singapore, becoming a sheep dog in New Zealand and helping builders redevelop the Battersea Power Station. Well done, Spot!
Image: React Engineering
See also: Palm sized robot dog operates with OpenCat
The post Spot the robotic dog heads to UK nuclear decommissioning site appeared first on Electronics Weekly.