Florida Power & Light Company recently announced a historic $500,000 gift to the Baptist Health Care Foundation to support the new Baptist Hospital campus. In honor of this transformational gift, the Baptist Hospital cafeteria will be named the FPL Energy Café. This donation, funded through the NextEra Energy Foundation, represents the largest gift FPL has given in the Northwest Florida region.
Currently in its 98th year, FPL is known for its history of giving back through philanthropic gifts, grant funding, community fundraisers and team member volunteer time, according to the organization. FPL team members in Northwest Florida have more than 3,000 volunteer hours in the region and representation on more than 50 different organizational boards.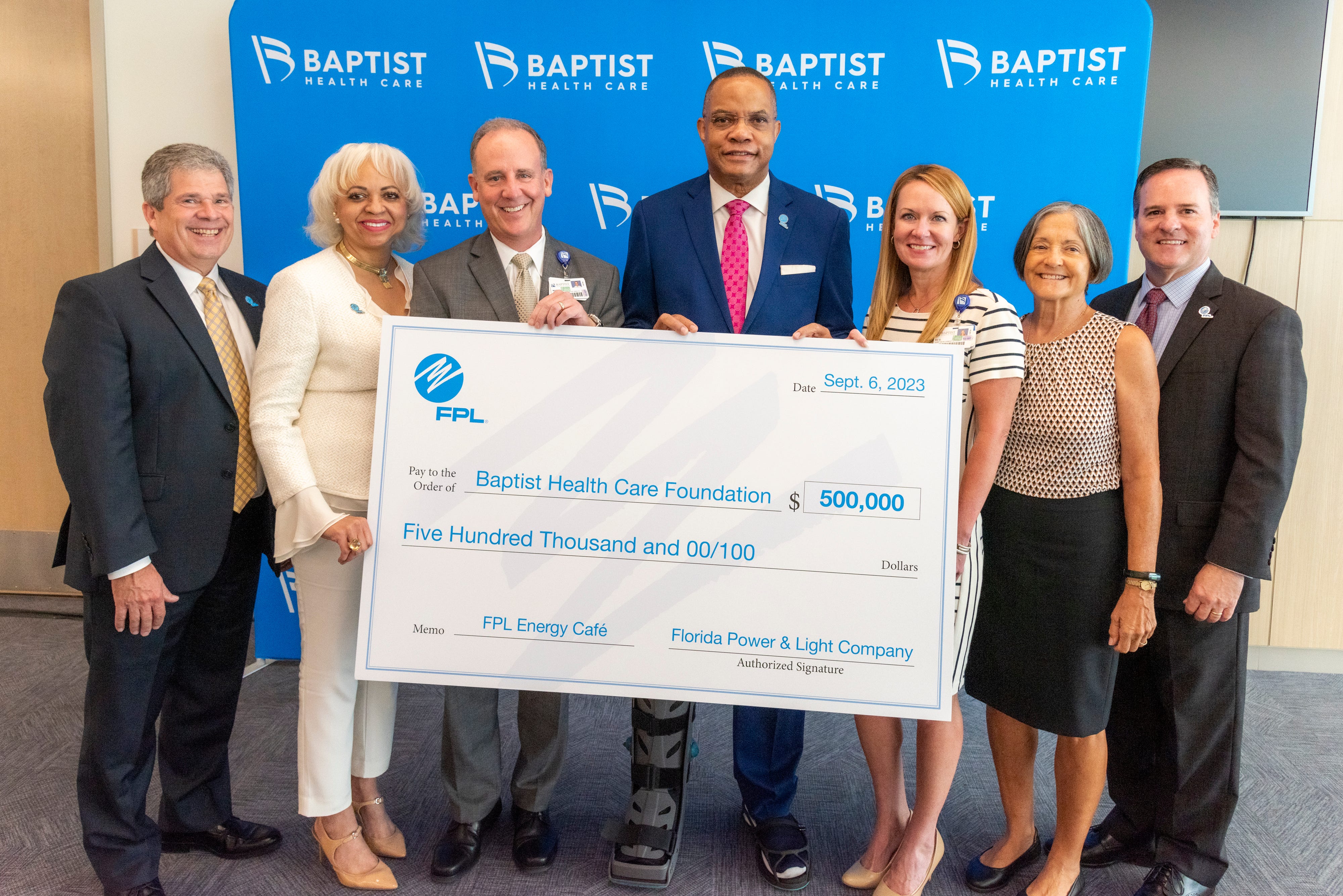 Historically, the partnership between Baptist and FPL, and formerly Gulf Power Company, has been strongly aligned in each of the company's mission, vision and values. The company has been contributing to the foundation for more than 38 years, supporting various programs and services within Baptist's health care system.
Visit eBaptistHealthCare.org or fpl.com for details.
'Take Action' against domestic violence with FavorHouse
FavorHouse of Northwest Florida is launching a new community-focused initiative to highlight domestic violence prevention and awareness while raising funds to support the programs and services provided to victims of intimate partner violence and their children.
October is Domestic Violence Awareness Month and community members are invited to "Take Action to End Domestic Violence" from Sept. 28 through Oct. 26. Some of the events included in this community advocacy campaign include a Pet Walk to End DV, a candlelight vigil, a community-wide scavenger hunt and crowdfunding competition.
The "Take Action" campaign culminates with a celebratory lunch where participating community members will celebrate making a positive impact on the mission to end domestic violence. Prizes will be given to category winners in both the scavenger hunt and crowdfunding competition.
Visit FavorHouse.org/TakeAction for details.
Find ways to help: 'Real Change' comes to the Brownsville Community Center to shine light on opioid addiction
Community Health Northwest Florida has #Notimeforflu in 2023
Community Health Northwest Florida recently launched its flu vaccine campaign to raise awareness about the flu and encourage everyone to receive their annual flu shot.
CHNWF recommends everyone six months and older receive a yearly flu vaccine as the first and most important step in protecting against the flu virus. September and October are considered the best months to get vaccinated against the virus before the season is in full swing.
While flu vaccination is always important to everyone, vaccinations for parents, expectant mothers and caretakers are more important than ever. This is especially true for people who are at higher risk of being exposed to or developing serious complications from flu and COVID-19, as well as those who are caregivers of people who are at higher risk from these two diseases.
Flu shots can be scheduled by contacting any Community Health Northwest Florida provider's offices or by visiting one of their four pharmacy locations.
Email smaddison@healthcarewithinreach.org or visit healthcarewithinreach.org/reasons-to-get-a-shot-2023/ for details.
UF/IFAS Extension Peanut Butter Challenge kicks off in October
The Peanut Butter Challenge, UF/IFAS Extension's annual collection for local food pantries that launched in the Florida Panhandle in 2012, is again spreading statewide this year. The challenge starts Oct. 1 and runs through the entire month. In 2022, citizens of Santa Rosa County donated 2,056 jars (for a total of 2,657 pounds) of peanut butter to the SRC challenge.
In addition to community donations, the Florida Peanut Producers Association and Florida Peanut Federation have partnered with the project for years. These organizations are based in the northwest and northeast peanut-producing regions of the state and will again contribute to the totals distributed to food pantries in those regions.
Current drop locations include:
All SRC libraries, Jay, Milton, Pace, Navarre, and Gulf Breeze
UF/IFAS Extension Offices in Jay at 5259 Booker Lane and Milton at 6263 Dogwood Drive
SRC administration complexes at 6495 Caroline St., Milton
SRC Clerk of Courts at 6495 Caroline St., Milton
SRC Chamber of Commerce at 4315 Avalon Blvd., Milton
Pace Water System at 4401 Woodbine Road, Pace
Cornerstone Christian Church at 14047 Alabama St., Jay
SRC Farm Bureau Offices at 4035 Highway 4 in Jay and 4474 Woodbine Road in Pace
United Bank (Jay) at 14038 Alabama St., Jay
Businesses, civic or faith-based organizations interested in collecting peanut butter to support the needs of the community should call UF/IFAS Extension Santa Rosa County at 850-623-3868 or 850-857-2313.
Take part: To make a Causes submission, email giving@pnj.com.
Never miss a story: Subscribe to the Pensacola News Journal using the link at the bottom of the page under Stay Connected.
This article originally appeared on Pensacola News Journal: Florida Power & Light donates a historic $500,000 to the Baptist Health Care Foundation