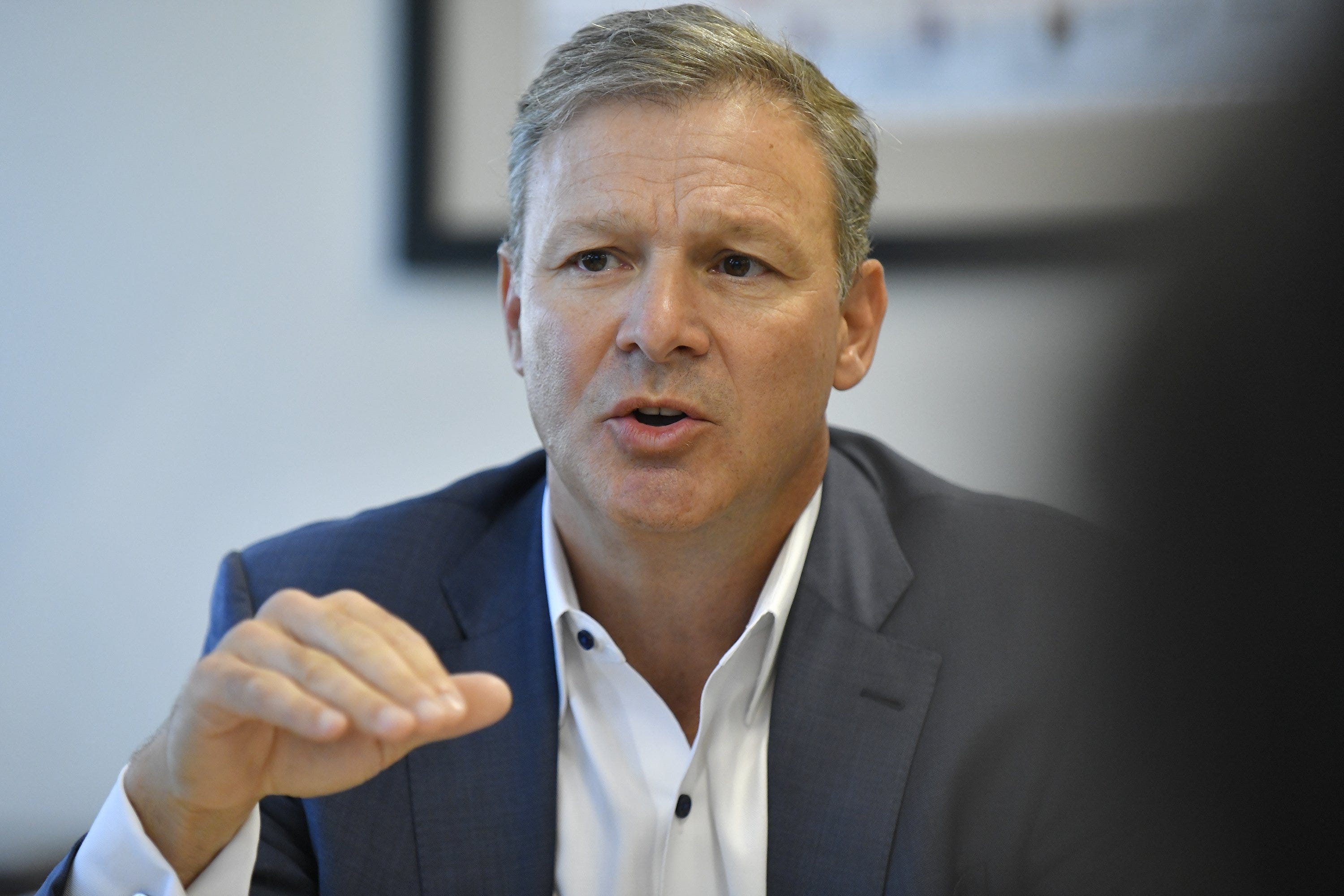 Outgoing Florida Power & Light CEO Eric Silagy signed an exit agreement that includes a multi-year "claw back on compensation" if there is a finding of "any legal wrongdoing," according to a report written by Bank of America securities analysts, who discussed the abrupt departure of the company's longtime leader with top executives last week, revealing previously unknown details about the latest management shakeup at one of the America's largest power companies.
Those analysts had expressed concern with the unexpected announcement and downgraded their outlook on shares of NextEra, FPL's parent company, with investors finding the impending retirement of Silagy, 57, "rushed" and difficult to separate from recent controversies, including allegations made in a Federal Election Commission complaint that the company violated campaign-finance laws. The bank analysts then hosted NextEra executives in Boston and New York last week to talk through Silagy's exit and other uncertainties the analysts had with the company's future, a conversation that left them "with more comfort that there is not 'another shoe to drop,'" according to a second report they wrote.
"The FEC process is currently informal and is confidential, so the risk of media updates is low," wrote the analysts, who nonetheless did not change their more bearish assessment of NextEra's stock.
NextEra said its exposure around the FEC complaint was "muted" and that it had not had contact with the Department of Justice "on this topic," according to the analysts.
Nate Monroe:Eric Silagy, FPL's chief brawler, leaves legacy of high profits but low trust
More from Nate Monroe:'Clawback' is welcome accountability in Jaguars owner Shad Khan's Four Seasons deal
More from Nate Monroe: In quest for mayor, challengers hope to derail coronation for establishment scion
It was during that conversation when NextEra executives disclosed to the bank analysts some of the terms of Silagy's exit, which they had not previously shared. In addition to the multi-year "claw back on compensation for any legal wrongdoing," Silagy will receive his full compensation for 2022 and had to agree to a two-year non-compete clause that "limits Silagy's ability to position himself at an adjacent utility." The non-compete provision was the only of the three terms the report described as "customary."
The Bank of America analysts' report aligns with a copy of the exit agreement NextEra attached to a Securities and Exchange Commission notice it filed last week about the management change. That agreement says the claw back would require Silagy to "repay all amounts" that "have previously been paid to you."
It also says Silagy is not to make "statements on any website or respond to any inquiries regarding this Agreement by the media" and that, likewise, NextEra will not "issue any press releases" about the exit package.
"Management overall described the separation agreement as positive and showing that the Board of Directors had a high degree of comfort in signing off on the deal," the report said.
FPL did not respond to questions sent Monday night about the Bank of America report.
"For shares to recover ... management will have to continue explaining the fact pattern around Silagy's retirement ...," the analysts wrote.
It's unclear if all the terms of Silagy's exit, including the claw back, are standard for FPL leaders. The company's most recent proxy statement — which was filed last year and summarizes FPL's executive compensation policies from 2021 — does not describe a "claw back" applying to former executives if they are found to have broken the law or committed other kinds of misconduct.
The statement indicated that Silagy would have gotten about $14 million if he had taken early retirement in December 2021; had he been fired that month, he would have received the company's executive severance, which would have paid him nearly $15 million. In neither case does the filing indicate Silagy would have been subject to a claw back.
The Bank of America report described the agreement between Silagy and the company as a "mutual separation/retirement." Silagy's annual base salary was $1.4 million, with millions more available depending upon the company's performance. It's unclear how much of his 2022 compensation would be subject to the potential claw back or what his compensation from that year will ultimately be; the company will file a new proxy statement at its annual shareholder meeting this spring.
Silagy's exit was announced a year to the day after NextEra said its former CEO, Jim Robo, was stepping down, a corporate figure who, like Silagy, found himself wrapped up in controversy swirling around one of the company's former political consulting firms, Matrix LLC.
FPL is NextEra's largest subsidiary, one of the biggest electric companies in the United States, and a major broker of Florida political power. In more recent years, FPL was on an aggressive campaign of expansion, having absorbed the western edge of the Florida Panhandle into its service territory, which now includes more than 12 million people.
The bank analysts said the company had persuaded them that recent public scandal in Florida would likely not damage the company's long-term prospects.
"Management described the regulatory and political relationships as deep and broad-based and emphasized that there is a 'halo' around FPL following the success of restoration efforts following South Florida hurricanes last Summer," they wrote. "We see real merit given the latest success in accelerated storm restoration after earlier Hurricane Maria demonstrated their prowess ..."
But FPL has found itself in a rare defensive posture throughout the past year as news outlets throughout the state, including the Florida Times-Union, have reported stories detailing FPL's involvement with political operatives who engineered electoral trickery and engaged in other controversial behavior — like spying on a journalist (the author of this story) — as the electric utility reached the apex of its power.
NextEra CEO John Ketchum said during the company's earnings call last week that those controversies were not connected to Silagy's decision to leave, though Ketchum then acknowledged that the events of the past year, which included that media scrutiny, had taken a toll on FPL's 11-year CEO. "2022, obviously, was a year with a lot of challenges. The distractions Eric went through in his prepared remarks, but when you think about all the challenges that he had to overcome with the hurricanes and with high natural gas prices and inflation in the supply chain and the media allegations and all those things," he said.
Those stories were largely built upon records discovered on a server belonging to a former employee of Matrix LLC, an Alabama consulting firm that had worked with FPL throughout the past decade, and eventually leaked to Florida journalists beginning in 2021. Matrix suffered a schism between its longtime owner and its longtime CEO, a fierce dispute that FPL believed was the impetus behind the records finding their way into the hands of reporters. The controversies crossed state lines, reaching into Georgia and Alabama. Atlanta-based Southern Co. and its subsidiary, Alabama Power, have also been longtime Matrix clients and, like NextEra, have seen their top executives depart in recent months.
The FEC complaint has also exposed the company, though it claims that exposure is limited. Still, NextEra shared a warning with investors in a Securities and Exchange Commission filing last week: "FPL's and (NextEra's) business and reputation could be adversely affected by allegations that FPL or (NextEra) has violated laws, by any investigations or proceedings that arise from such allegations, or by ultimate determinations of legal violations," the company said.
The two former Matrix partners settled their dispute last summer, however, which has stemmed the flow of unflattering disclosures. "The lack of any other formal investigations and further media articles after the resolution of the Matrix LLC dispute also limits likelihood of further public datapoints," the Bank of America analysts wrote.
The report says not to expect a resolution to the FEC investigation for "more than a year," but NextEra executives put a positive spin on the probe.
"Management is quick to point out the FEC investigation is entirely confidential between parties," the analysts wrote, "leading to limited external datapoints for investors or the media to track."
Nate Monroe is a metro columnist whose work regularly appears every Thursday and Sunday. Follow him on Twitter @NateMonroeTU.
This article originally appeared on Florida Times-Union: FPL CEO's exit agreement includes claw back if 'legal wrongdoing' is found, investment analysts say