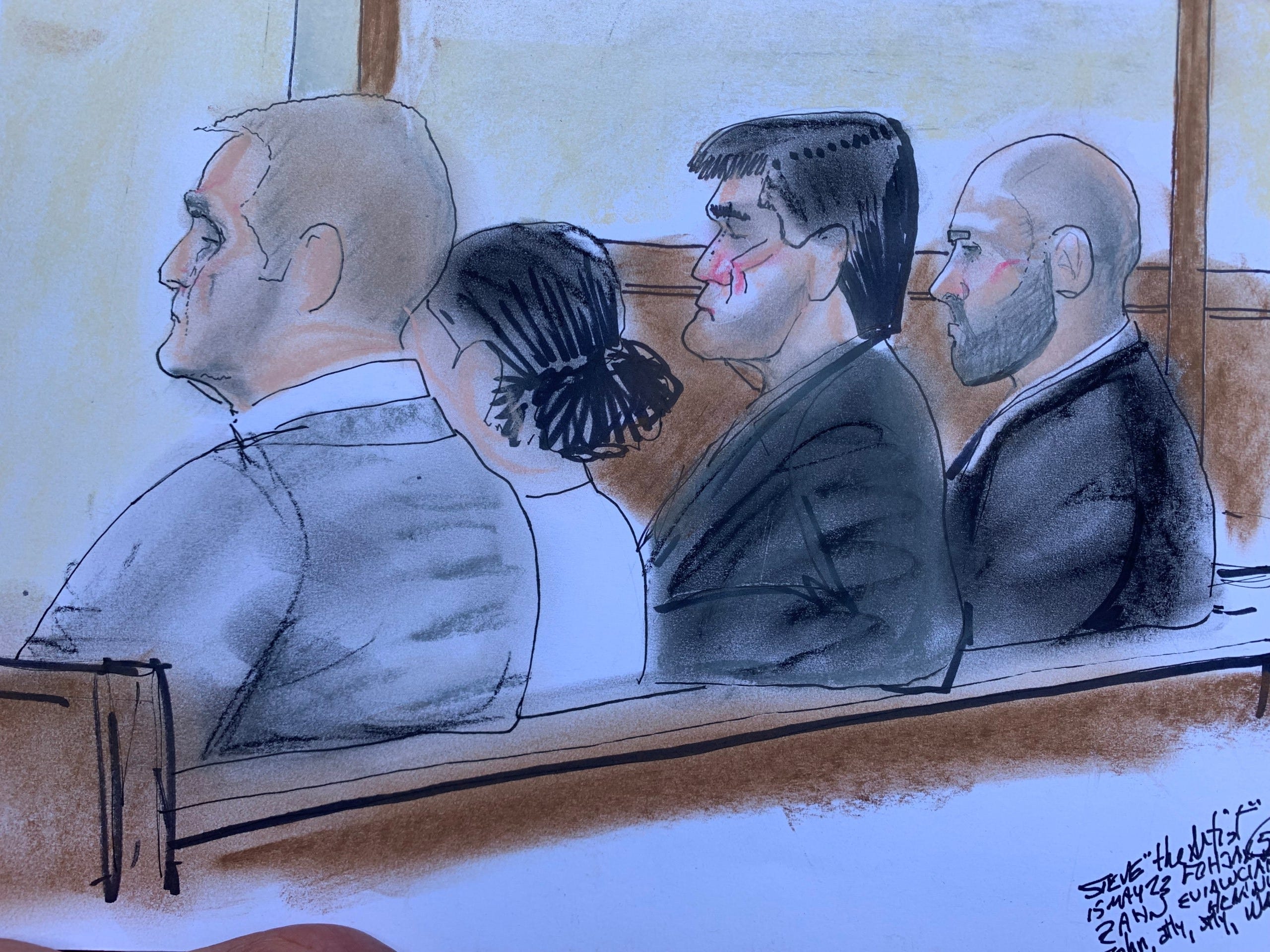 A Florida Power & Light vice president on Friday confirmed for the first time in court testimony the former CEO of Jacksonville's city-owned utility, JEA, gave her company's executives a private heads up in the summer of 2019 that the city agency was likely to solicit offers to be acquired by a private operator.
Pamela Rauch, FPL's vice president of external affairs and economic development, also said in her testimony that one of the attendees was Jacksonville political consultant Tim Baker, a prolific campaign operator who played a number of roles throughout 2019 — during the run up to and height of the controversial campaign to privatize JEA — that generated scrutiny in the aftermath: at various points, he was a political adviser to Jacksonville Mayor Lenny Curry, informal adviser to then-JEA CEO Aaron Zahn, and an FPL consultant.
Neither Baker nor FPL are accused of wrongdoing.
Rauch's testimony on Friday during a lengthy pre-trial hearing puts to final rest a question that has lingered since a grand jury indicted Zahn and former JEA CFO Ryan Wannemacher on conspiracy and wire fraud charges in March 2022. Among the evidence prosecutors included was a previously unknown meeting in which Zahn allegedly disclosed to the head of an unnamed power company in West Palm Beach that the city agency was on the verge of soliciting offers to go private — information JEA leaders were working hard to keep out of public knowledge at the time. The July 17, 2019 meeting took place just days before the JEA board of directors, in a marathon July 23 meeting, authorized the agency's executives to put the utility up for sale, the beginning of a highly controversial and ultimately unsuccessful effort.
FPL's parent company, NextEra, submitted an $11 billion bid to acquire JEA and is headquartered in West Palm Beach, but the company has never confirmed it was the player mentioned in court papers. And in a previous interview last year at the Times-Union's downtown office, former FPL CEO Eric Silagy waffled on whether his company was the unnamed bidder.
Baker's attendance at the meeting was also unknown until Rauch's testimony.
Baker told the Times-Union on Friday the meeting was "bad optics for sure but the timing coincidental." He and Rauch, in her testimony, acknowledged that privatization came up during that meeting at a West Palm Beach executive airport, but Baker said the meeting had "been in the works for months" and that it was primarily a chance to get Zahn and Silagy "face to face" to talk about "all the various joint ventures the two companies had together and some joint power plant they owned in particular."
Rauch said, to her, the meeting was more spontaneous. A colleague, Danny Martell, FPL's lobbyist, asked her to attend the meeting because it would be "good for you to hear what the meeting's about and what's discussed." At the time, she didn't know what that could have been about and wasn't sure Martell knew either. At the meeting, she said, Zahn disclosed that JEA was on the verge of initiating a bidding process to buy the agency. "I do think there was an understanding we'd be interested in bidding," she said.
Baker said Zahn had also said "if the board got to the place of soliciting bids he thought 100 bidders would be involved, he thought Google and Amazon would be interested."
It's not clear if any other potential bidders got such an intimate private tip off about the coming opportunity to acquire one of the largest public utilities in the United States.
At that time, Zahn and his executive colleagues had taken remarkable steps to ensure their plans were kept under wraps. Jeff Rodda, an auditor in the Jacksonville City Council Auditor's Office, testified Friday it was notably difficult to track down a copy of the board of directors agenda packet for July 23, 2019 — the date, just days after the July 17 meeting between Zahn and FPL, that the board authorized Zahn to put JEA up for sale. To get the agenda package, which included the privatization plans, Rodda had to meet Wannemacher, JEA's CFO, at Chamblin's in downtown just an hour or so before the meeting was set to take place.
Wannemacher told him it was a "a red pill or blue pill conversation," meaning Rodda could take the agenda package if he agreed not to share it with anyone in advance of the meeting, Rodda testified.
The secret nature of that meeting caught notice of federal investigators as they looked into Zahn's tenure at JEA.
They also showed interest in Baker, a political consultant who ran both of Curry's campaigns for mayor as well as the unsuccessful mayoral campaign of Daniel Davis, who was defeated by Democrat Donna Deegan in Tuesday's runoff election. Both candidates pledged JEA would not be sold on their watch, a promise that some critics said seemed tenuous given Davis' ties to Baker.
Past public records indicated Baker ended his consulting relationship with FPL that same month — July 2019 — a point he reiterated Friday. "FPL had been wanting to get the meeting scheduled and it was my final loose thread I was trying to nail down for them as I'd given notice to terminate at the start of the month," he said.
But during the sale effort, he remained at least a peripheral figure. He informally advised Zahn throughout the privatization campaign, a role that at least once overlapped with his representation of FPL. He attended a private meeting at Club Continental in Orange Park in early July of that year during which lawyers, investment bankers, consultants and utility officials began planning to put JEA up for sale. He expected to play a lead role in running the voter referendum that would be required before any company could finalize its acquisition of JEA.
And at one point, former JEA officials told the Times-Union several years ago, Zahn had asked his colleagues about potentially hiring Baker to work directly for JEA.
Rauch said Friday that prosecutors who interviewed her wanted to know more about Baker's relationship with the company. And in previous testimony this week, an FBI agent disclosed that investigators had sent one of Baker's companies, Bold City Strategic Partners, a subpoena, though he did not discuss the details of what they were after. Baker was not interviewed by federal investigators, the agent said (which Baker also acknowledged Friday).
"As you noted the other day, I never spoke to the feds so not sure their angle or others testimony but that was a meeting that had been in the works for months and couldn't get the schedules aligned," Baker said of the July 17 meeting. "I think the date changed a few times and it ended up being that day."
The unusual public view of the evidence federal prosecutors collected throughout their investigation into the most tumultuous period in JEA's history has taken place during a pre-trial proceeding called a Kastigar hearing, a process during which the government must convince a U.S. magistrate judge that prosecutors did not violate Zahn and Wannemacher's constitutional right against self incrimination.
Zahn and Wannemacher are accused of being the architects of a scheme to enrich themselves by skimming profits off the top of a sale of JEA, a project that imploded amid scandal and consumed their tenures at the city agency.
The bulk of the hearing has focused on the evolution of the government's case, including how investigators gathered evidence and the kinds of leads they followed to reach some of their conclusions. Sometimes, that has included public discussion about the political atmosphere surrounding JEA during Curry's time as mayor, including episodes that pre-dated the 2019 privatization effort under Zahn. Former JEA CEO Paul McElroy, for example, whose retirement in early 2018 left an opening for Zahn to eventually step into the role, said political pressure from City Hall made success "difficult" to achieve, contributing to his decision to leave.
Former board member Kelly Flanagan, in separate testimony Friday, was more direct, telling Assistant U.S. Attorney A. Tysen Duva that the "tone" from the Curry administration was "not in favor of Paul McElroy continuing." Later, she recalled a phone conversation with Curry himself.
"I recall being informed that a candidate would be coming forward," she said, "and encouraged to keep an open mind."
The board hired Zahn to be the interim CEO shortly after that call.
Nate Monroe is a metro columnist whose work regularly appears every Thursday and Sunday. Follow him on Twitter @NateMonroeTU.
This article originally appeared on Florida Times-Union: FPL exec details private meeting with ex-JEA CEO ahead of privatization push